Thursday, April 9th, 2015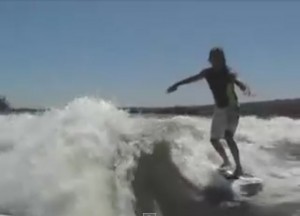 In the 1980s Florida Panhandle, near cities like Panama City and Fort Walton Beach, there were several distinct water sports, such as, surfing, water skiing, skimboarding, and wakeboarding. When the Gulf was flat, as it often is, surfers joined the others behind boats, but preferred to hop up on their ocean boards managing to ride well enough that they could toss the rope. It didn't take long to recognize that smaller surf boards performed better, and that the more people you piled into the boat, the better the wake.
A local skimboard manufacturer, Madden Aqua Planks, had just begun building boards with foam instead of wood, and light bulbs went off in skimboarder's heads. Skimboards were now much like mini-surfboards, with no fins, less rocker, and edges designed to work on small waves—like a boat's wake. After a few requests, Madden began shaping boards specifically for "boat surfing" and that is just one of the numerous organic origins of wakesurfing.
Since those early days, much has changed and wakesurfing is a fully evolved sport with various manufacturers building boards, boats, and boat components specifically for wakesurfing. The freedom and flexibility of wakesurfing, together with the relatively low-speed, make it tremendous fun without pain and injury.
Are you ready to give it a shot? Here are a few tools you will need:
A Board:

 

Yes, you can ride just about anything on a wake. Talented folks even manage to stand on wakeboards, but you will receive the greatest satisfaction out of a Wakesurf board. Wakesurf boards are essentially a hybrid, larger than skimboards, smaller than surfboards, with foam cores, short fins, and a shape designed to help maintain speed while allowing for quick movements. Larger riders, and novices, will prefer longer boards, but the more tricks you learn; the shorter you will want your board.
An Inboard Boat:

 

A

 

ski/wakeboard boat

 

is necessary if you truly want to pursue this sport. Several boat makers build boats with hulls designed to increase the size, and smoothness of the wake in an effort to maximize the trick potential for all tow sports. Manufacturers have added wedges, plates, and various hydrofoil components to these boats to optimize the wake size and shape, for wakesurfing you want the stern deep in the water in addition to adding extra weight (ballast) to the surfer's preferred side.
Friends!

 

One to drive the boat of course, at least one with a GoPro to film your wipeouts, and absent a proper ballast system, you can actually use your friends to weigh the back corner of the boat. You also need a friend to mind the rope when you toss it, and riders prefer shorter ropes for safety, so the typical rope used for wakeboarding is too long. 
Now that you have the basics, it is time to get out on the water! With summer just around the corner, make sure your boat is in tiptop shape with help from Performance Product Technologies. For high quality marine products and expert technical advice, please contact us today. Also, check out our YouTube channel for a detailed look at some typical maintenance issues and follow us @Mercruiserparts for all the latest news.