Mercury Outboard Parts | Diagrams | Accessories | Lookup Catalogs
Search Diagrams by Model
Mercury Marine Outboard Parts & Repair Videos
Numerous Mercury Marine Outboard How-To Technical Repair Videos....
Search Videos
"It must be awfully nice to be a writer and be privileged to point to anyone from on high and never be pointed back at. How would you like to compare notes, if it were possible, on respective accomplishments on our day of reckoning---as well as our wrongs?" Carl Kiekhaefer, December 1964
PPT has an A+ BBB Rating for a reason........we take care of our Mercury Marine Outboard customers. Mercury Outboard Parts and Mercury Marine Motors are among the most popular outboard motors for sale today. When you are looking for specific Mercury Marine Part Numbers, why pay the normal high prices for OEM Mercury Marine Parts & Accessories when you can shop PPT online for huge discounts and free shipping. Using our simple outboard catalog parts lookup you can quickly locate the correct OEM Parts from Mercury Marine near you. What's more convenient than using our simple Mercury Direct Online Diagrams to shop from the convenience of your home. Simply enter the original model or serial number assigned to your outboard motor by Mercury Marine. Mercury uses a specific system when assigning either serial or model numbers to their Mercury Outboard Motors, however either of these can be used to lookup OEM parts for your motor.

Mercury Marine | History of the Company
Mercury Marine turned 75 years old in 2014. Looking back at this exciting history, as with many outboard companies it's roots can be traced back to its very unique founder; Carl Kiekhaefer. Although being labeled the father of Mercury Outboards, its interesting that Kiekhaefer actually worked as a draftsman for Evinrude outboard motors in 1927 however was fired after just 3 months employment with Evinrude. Kiekhaefer had 3 unique qualities that made him less than the ideal employee 1) He had a keen eye to see inherent flaws in mechanical designs, 2) He often fixated and worked tirelessly trying to fix those flaws, 3) He couldn't stand to work alongside anyone that didn't possess those first two qualities. Some 12 years later in 1939, and after working for Stearns Magnetic, Carl and his father took the risk of entrepreneurship by purchasing the largest employer in Cedarburg Wisconsin; Cedarburg Manufacturing Company $25,000. The company was the failing manufacturer of the Thor Outboard Motor. As part of the purchase Kiekhaefer inherited 384 Thor Outboard Motors after they were rejected from a 500 unit order by Montgomery Ward because they simply didn't work. Little to Carl's knowledge and his true desire to get into the Magnetic Separator business, these outboard motors would be the predecessor to the now world famous Mercury Outboard Motors. By 1940 his redesigned & renamed Mercury Outboard Motors (named after the Roman god of speed) were succeeding and therefore yielded Kiekhaefer orders upwards of 32,000 units annually. This was no small feat realizing Evinrude was only producing slightly more than this volume at the time. In January 1940, 5 new Mercury Outboard Models were introduced; the K1, K2, K3, K4 and K5 Outboard Motors with prices ranging from $42.95 - $98.50. And thus Mercury Outboards were born by Kiekhaefer and his 25 employees working 18 hours per day, 7 days a week.
Today's Mercury Marine Outboard's
Today the Mercury Outboard Motors name is synonymous with any Outboard Motor in general. Performance Product Technologies (PPT) prides ourselves on this same passion to detail in providing our customers with the best customer service when they Buy Mercury Outboard Parts. Since 2002 and after many years working as engineers for Mercury Marine, (PPT) has been serving customers with Mercury Outboard Parts both online and at our dealership in Stillwater, OK by offering our Mercury Marine Parts based on a specific and trained technical background to provide you with a higher level of service versus other online Mercury Part retailers.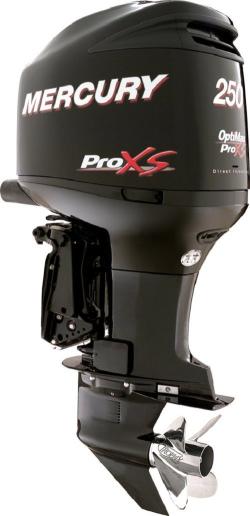 Mercury 2 Stroke Outboards & the Optimax
Mercury Marine has been producing outboard motors for 75 years which encompasses many very important innovations to the marine industry. Based on this history the Mercury name itself is associated to outboard motors much like Kleenex is to tissue. Looking back 69 years to 1948 this is when the initial modern era outboard motor was introduced by Mercury Marine. This 2 stroke outboard was offered in an inline 4 cylinder configuration and offered an entirely new level of performance and durability. However, just 6 short years later they introduced the first 2 stroke outboard motor that boasted having 1 Hp per Cubic Inch of engine displacement. The sister engine to the 40 Hp was the first 6 cylinder 60 Hp outboard which was considered by many to be the most powerful outboard of it's time. Fast forwarding 40 years marked another milestone for Mercury Marine when they introduced the first 3.0L displacement outboard when hit the scales at 225 Hp.
Fast forward to the early 1990's and outboard motor emissions were becoming a dominating conversation within the Marine Industry. The conversation hinged around whether or not 2 stroke outboard motors were even capable of meeting the desired emissions standards being discussed. Around 1996 Mercury Marine introduced the Direct Fuel Injected (DFI) Optimax line of 2 stroke outboards which were developed using a technology co-developed along with an Australian company named Orbital.
Today the Optimax Outboard lineup and especially the Pro XS series of 2 stroke outboards are still among the most popular Bass Boat outboard models offered by Mercury Marine.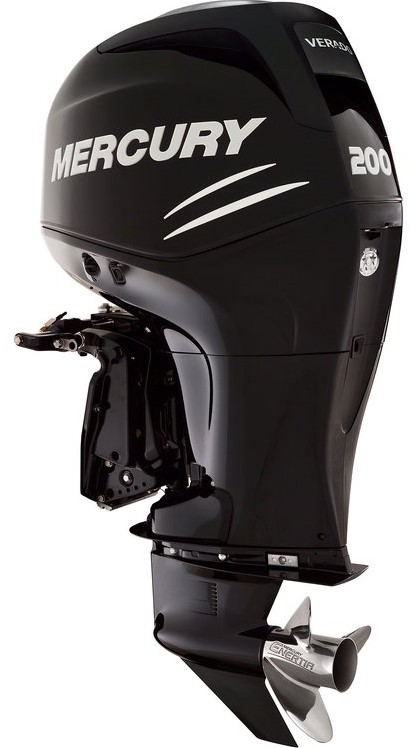 Mercury 4 Stroke Outboards & the Verado
Although most of the visible focus between the mid 1990's and mid 2000's was dedicated towards the 2 stroke outboards, there was significant work being done behind the scenes to develop Mercury Marine's long-term strategy towards their 4 stroke outboard lineup. While most other outboard manufacturers were developing larger displacement, heavier outboard motors Mercury was concerned that the weight would be something 2 stroke customers would not be willing to compromise on. Especially with Bass Boat customers the power to weight advantages of the 2 stroke outboards was the most critical characteristic they considered when comparing outboard motors in general. Over the next several years Mercury focused on developing their 200 Hp - 300 Hp outboard lineup utilizing smaller displacement, inline 6 cylinder super charged line of 4 stroke outboard motors. This outboard platform was specifically aimed at targeting the undesirable power to weight issue with most 4 cycle outboards. The Verado Outboard lineup was released in 2004 and is still in production today with the 350 Hp version being released in 2015 not to be outdone by the 400 Hp Verado released in 2016.
Today advancement in engine technology has progressed exponentially since the mid 1990's and is now allowing outboard manufacturers to take advantage of technologies which are allowing them to produce even smaller and lighter naturally aspirated 4 stroke outboards.
It will be interesting to see what the future holds as the overall outboard boating market been trending towards even more powerful, and bigger 4 stroke outboard motors. Today Yamaha offers a large displacement 350 Hp outboard and Seven7Marine is offering a 627 Hp outboard. It's safe to assume that Mercury Marine is likely developing a larger displacement 4 stroke outboard to take the place of the Verado Outboard Model Lineup.
Mercury Marine Parts - Optimax 200 Water Pump Impeller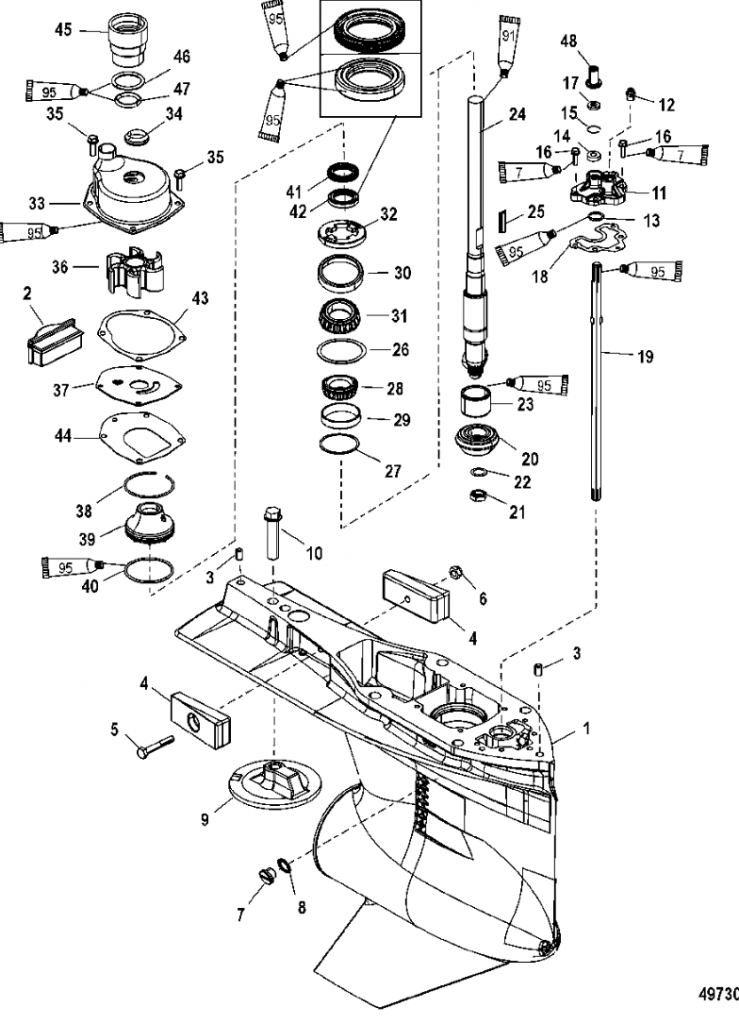 Mercury Marine Parts & Maintenance | 200 Hp Water Pump Diagrams...READ MORE.
In today's world of online Marine Product Companies you will see a lot of "Big Box" retailers not only selling Mercury Outboard Parts but also selling Books, Furniture & Telephone Accessories. How do you even begin to compare the technical complexity of Outboard Motor Parts to a telephone accessory or a book? Mercury Marine Parts are no different. than any other manufacturer's products, they require technical expertise behind the product. Otherwise Mercury Marine and the other outboard manufacturers wouldn't require their dealers to maintain annual training certification levels. You wouldn't want to purchase your technical Mercury Marine Parts from a retailer that also sells other non-technical products would you? For example, regularly scheduled Outboard Motor maintenance is one of the most important factors in determining the life expectancy of your Mercury Outboard. Using OEM Mercury Marine Parts is not only something Boater's should consider but a "Best Practice" recommendation from our point of view. There are several instances when After-Market Mercury Marine Parts can be a good alternative to the original OEM products. However, your Mercury Marine Parts supplier needs to be more than just a retailer. Rather we recommend only buying Mercury Marine Parts from an authorized Mercury Marine Dealer. Not only is PPT an authorized dealer for Mercury Marine, but we the technical background having been product design engineers for Mercury Marine for a combined 30+ years.
Regarding regular maintenance of the water pump impeller, all of the "Big 5" outboard motor manufacturers including Mercury Marine Outboard's, Yamaha, Suzuki, Honda and Evinrude recommend inspecting, if not replacing the water pump impeller every 1 to 2 years or 100 hours of usage. It's also worth mentioning here that the Inboard and Sterndrive Marine Engine manufacturer's such as MerCruiser and Volvo Penta also recommend similar water pump impeller maintenance procures on their Marine Products as well.
When you stop and think about the design of any standard "Open Style Marine Cooling System" you need to think about the various debris that can be picked up by the water pump and end up inside of the outboard motor. Depending on the conditions you operate your boat in, its not uncommon for boaters to suck up plastic bags, grass, weeds, etc all of which can limit the amount of water to the engine. Unfortunatley, the most common way boaters realize this scenario is happening is when the alarm sounds and they shut down the outboard motor. However, by the time the alarm sounds damage may have already occurred. Understanding that this damage is cumulative in many cases, it sheds light on the importance of maintaining a properly functioning water pump impeller and overall Marine Cooling System.
Understanding how the water pump and impeller functions by design involves utilizing a specific amount of "controlled" friction between the water pump body and the impeller.  As the blades of the impeller are deformed the water volume area between the blades changes which in effect allows the pressure to be lowered as the area inside of the pump changes from smaller to greater. This lower pressure differential is what allows water to flow in the direction from higher to lower pressure. In summary this is basic functioning of a positive displacement outboard motor water pump. However, it is so critically important that once water is limited to the water pump this friction increases exponentially between the impeller and water pump body which then introduces heat, and ultimately the breakdown of the water pump impeller. Once this happens the material characteristics of the impeller change and are such that it is no longer able to create the needed "low" pressure draw to pump water as it was designed. Therefore, this ultimately results in lower water flow and if bad enough an outboard motor overheat situation.
BOTTOM LINE: Regardless of whether you run a Mercury Outboard Motor, Yamaha 4 Stroke Outboard, or MerCuiser Sterndrive Engine, proper cooling system maintenance is critical to the longevity of that product. And one of if not the most important factor of a Marine Cooling System is the condition of the water pump and impeller.
Mercury Marine Technical Library
Our Mercury Marine Parts technical expertise also allows PPT to provide our boating customers with direction regarding Direct Replacement Mercury Outboard Parts options. In certain cases OEM Mercury Marine Parts are the better option but in many cases there are good, economical alternative part options such as with Sierra Marine Parts. Check out the Sierra Marine Parts Catalog for a complete listing of Direct Replacement Mercury Marine Parts for almost every Outboard and Inboard Motor manufacturer in the Marine Industry.
Call us at (405) 533-3812 or send us an email at sales@perfprotech.com for more details, there is no better deal available on Mercury Outboard Parts, guaranteed!