5 Fun Facts About Water Skiing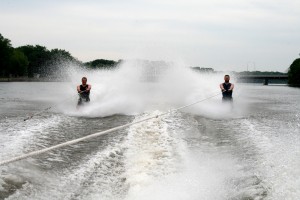 Water skiing is a classic American surface water sport that's enjoyed by thousands of people each year. There's just something fun and exciting associated with thefeeling of gliding over the water using nothing more than a set of skis. Like many other sports, though, there's a rich background and history to water skiing that most people are unaware of.
The World Record For the Most Water Skiers Towed By a Single Boat is 145
It's pretty impressive when two or more water skiers are towed by the same boat, but Tasmania's Horsehead Water Ski Resort took took this to a whole new level by towing a record-setting 145 skiers in 2010. The previous world record was just 100 skiers, set 24 years prior. The boat used in this record-setting event was a 3,000-horsepower World Heritage Cruises' catamaran Eagle.
Water Skiing Was Invented In 1922
Ralph Samuelson of Lake City, Minnesota is credited with inventing the sport of water skiing. In 1922, Samuelson attached a set of makeshift skis to his feet (constructed of boards) and held on to a clothesline as a boat pulled hum. He discovered that shifting his body weight to the rear with his makeshift skis pointed up resulted in a stable, balanced formation, and thus began the sport of water skiing.
Safety Requires a Minimum of Two People In The Tow Boat
A boat should only tow a water skier if there are at least two people inside it – the captain and one other passenger. The captain must observe his or her surroundings, while the second passenger is responsible for observing the water skier. Operating a tow boat without a passenger watching over the water skier is a serious mistake that greatly increases the risk of an accident-related injury.
Water Skiing Tournaments Consists of 3 Main Events
Practically all major water skiing tournaments are centered around 3 main events: slalom, jumping, and trick riding. In slalom, skiers must maneuver around a series of staggered buoys without hitting them. In humping, skiers are pulled from an angle over a large ramp, at which point they must thrust themselves into the air. In trick riding, skiers are given the freedom to perform their own twists, turns, flip and tricks in hopes of capturing the judges' attention.
Water Skiing Is an Olympic Sport
Water skiing was added as an Olympic sport in 1972, drawing even more recognition and authenticity to it. Following its success in the Olympics, snow skiing was subsequently added just two years later in 1974
Tags: Water Skiing