Wakesurfing Products and Tips Guarantee a Fantastic Summer Experience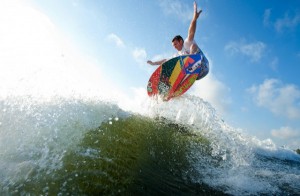 Summertime is synonymous with adventure, and water sports of all varieties not only provide that thrill, but also offer a perfect solution to the heat. While there are many water sports that entertain, wakesurfing is one of the most invigorating.
While not as widely known as water skiing, wakesurfing is becoming more popular every year. In fact, more and more water sports enthusiasts are adding wakesurfing to their repertoires each day. In order to take an educated plunge, however, you should first consider a bit about wakesurfing's past and present.
Not surprisingly, wakesurfing's history stems from avid surfers who decided to ride their old boards while tied behind boats. It didn't take long for these athletes though to realize that the surfboard designed for the open ocean was not the best for this unique use; as a result, early wakesurfers took it upon themselves to create specially designed wakeboards.
When these boards are combined with the proper wakesurfing rope, appropriate ballast, and an inboard boat, the experience is second to none. Proper care of each of these elements must be carefully considered, however, to ensure everyone's safety. For instance, the wakesurfing rope is  typically much shorter than the wakeboarding rope, allowing surfers the opportunity to position themselves in the best part of the wake. Additionally, wakesurfing ballast bags provide the perfect amount of weight in just the right spot so that the hull creates optimum wakes. Most importantly of all, the close proximity of the surfer to the boat demands that only inboard  boats–those without exposed propellers–be used for wakesurfing.
While an understanding of the technical aspects of the sport is essential, top tips from the experts will also prove exceptionally helpful, especially since one of wakesurfing's biggest draws is its ability to create ocean-like waves in lakes and reservoirs all across America. It used to be that people would have to travel to a coast in order to feel the invigoration and freedom of the waves. Wakesurfing offers that same feeling far from the beaches. Additionally, other water sports can take quite a toll on the human body. The slower speeds associated with wakesurfing though provides more cushioned falls for the participant.
These benefits coupled with the ease of learning the sport make wakesurfing a fabulous option for athletes of all ages; as a result, wakesurfing is one of the most rewarding water sports in existence. Please contact us today to make all of your wakesurfing adventures pleasant summer memories.
Tags: wakesurfing