Wednesday, November 19th, 2014
Like all seasonal activities, the time will come when you need to put your watercraft away for the cold months. Or maybe you are simply going away for awhile and won't be needing your boat for some time. There are several options for storing your boat, but whatever option you choose, be certain to follow these tips to ensure proper boat storage.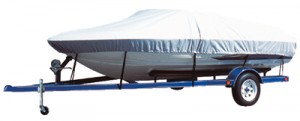 If you are storing your boat during the winter months, always follow the guidelines found in your boat's owner manual.
Disconnect the battery and remove it from the boat. Put the battery inside on a board, placing a trickle charge on it a couple of days a month. Clean the terminals with soda and spray with anti-corrosion liquid.
To prevent dirty oil from sitting in the engine, it's a good idea to change the oil and filter. The engine is a very expensive part of your boat. You want to keep it clean even when you're not using it.
Drain the engine's cooling system. For closed systems, refill it with antifreeze and water solution recommended by the manufacturer. For open system boats, insert a clean garden hose into the intake opening and flush it with clean water. Locate the coolant drains and open them, allowing the system to drain completely.
All storage lockers and hatches should be left open while your boat is in storage. This will keep air flowing so there is no stale smell when it's time to get back on the boat.
Take several photos of your boat, displaying the ID number in at least one picture. Take photos of any valuable equipment or other items that will remain onboard during storage. In case of damage or destruction during storage, these photos will help in processing insurance claims.
Whether you store your boat inside or outside, always use a good, tight boat cover to protect it from the elements, including everything from sunlight to dust.
If you store your boat outside during the winter months and it snows in your area, be sure to get out there as often as you can to brush the snow off. Especially if it is wet, heavy snow.
Check the registrations on both your rig and your trailer, and renew them early.
Don't forget to protect your boat from critters, such as mice, squirrels, raccoon, opossum and even cats. Remember, a mouse or squirrel is not very large and ANY hole that they can stick their head in, they can and will enter. They have remarkable climbing ability and their agility is unbelievable for climbing, jumping and ascending down electrical cords. To prevent this, place 4 or 5 moth balls in a Dixie cup and place a cup in EVERY storage compartment, including the battery and gas tank area. However, if you do not want the lingering aroma of moth balls greeting you when you bring your boat home from storage, you might opt for Spearmint Oil or fabric softener sheets in place of the moth balls.
Last, but not least, attend to the trailer. Jack it up and pull the wheels and hubs, and repack the bearings. If you have buddy bearings, ensure they are full. Put the trailer on blocks and store tires in the shed or garage. In addition, spray anti-corrosion on any unprotected iron.
With a little care and elbow grease, you can put that boat away confident it will be looking good when you're ready to bring it out of storage and get it out on the water again. Keep the above tips in mind to ensure your boat is stored properly any time of the year.
For more information, or if you have any questions or comments, please feel free to contact us at Performance Product Technologies today.