Prevent Winter Damage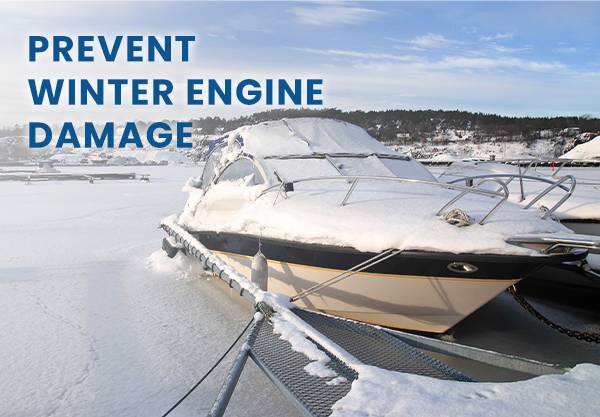 With the passing of the recent Labor Day holiday, many of us are faced with the ominous task of preparing our boats to be laid up for the winter. Winter can be harsh on a boat, and if you want to get out on the water next spring without any unwelcome surprises, it's important to store it properly.
HERE'S HOW YOU CAN WINTERIZE YOUR BOAT ENGINE
Fill the fuel tank with fresh non-ethanol gasoline. Add a sufficient amount of gasoline stabilizer which is specified for marine engines and then run the engine sufficiently to bring it up to normal operating temperature while allowing the treated/stabilized fuel to circulate through fuel system.
Change oil and oil filter. Lubricate all items like Throttle and Shift Cables, Steering, Coupler, U-Joints, Transom, Gimbal, Propeller Shaft, etc.
Flush the cooling system. Refer to each manufacturers specific flushing procedure as indicated in the owners manual. Drain seawater section of cooling system, as specified in the owners manual.
Clean flame arrestor and vent hoses.
Service the batteries as required by the manufacturer of the battery. Wash/Clean the outside of engine and allow to dry. Repaint any areas where bare metal is exposed, and allow to dry. Completely cover/spray the engine with some type of corrosion inhibitor or wipe down with SAE 20W engine oil or spray with WD-40.
Inspect U-joint bellows for cracks or weathering.
Check the bellow hose clamps to ensure they are tight.
Check engine alignment.
Change sterndrive unit oil.
Make sure the Sterndrive is in the DOWN position. This is required not only for draining of the unit but also to ensure that the bellows do not take a set which can lead to pre-mature failure when returned to service.
Use a piece of wire to check that water drain holes in sterndrive unit are open and allowing drainage.
Clean sterndrive exterior surfaces and repaint any bare metal surfaces.
Cover the entire sterndrive with some type of corrosion inhibitor.
Read More about Winterization of Mercruiser Inboard & Sterndrive Engines
Read More about Winterization of Yamaha 4-stroke Outboards
COMMON PRODUCTS WHEN WINTERIZING YOUR BOAT

Not finding what you're looking for?
Need help? Contact us at 1-405-533-3812

QUICK LINKS
Engine Flushing Systems
Motor Flushers
Boat Care Products
Lubricants & Engine Additives
Corrosion Protection
Fuel Additives
Cleaners & Degreasers
Trailer Accessories
CONNECT WITH US




PERFORMANCE PRODUCT TECHNOLOGIES
Tags: boat storage, boat winterizing, storage, winterization, winterize