Winter Boat Maintenance Checklist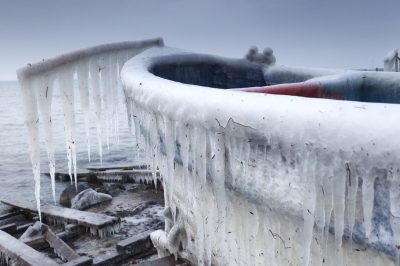 Owning a boat means having to perform periodic maintenance.  Well, it's that time of year again when you should begin your winter boat maintenance, if you want to keep your investment in good condition.
Winter Boat Maintenance Checklist
1.  Perform a thorough inspection of your entire boat and motor.  And  carefully check for any hull damage and / or stress cracks.
2.  Change the lower unit oil.
3.  Check the spark plugs and change if necessary.
4.  Check the batteries and their fluids.
5.  Test your aerators and bilge pump.
6.  Tighten all bolts, screws and motor mount brackets.
7.  Pull your boat out of the water and detail the hull.
8.  Inspect and test your fire extinguisher.  You should also make sure the contents are not expired.  If they are, replace your fire extinguisher immediately.
9.  Clean out and disinfect all storage bins and wells and allow them to dry thoroughly before closing them and storing your boat for the winter.
10. Find your boat insurance and fishing license to check the expiration dates.
11.  Look at the condition of all your ropes and floats and replace when necessary.
Winter Boat Trailer Maintenance Checklist
1.  Check the running boards and make sure they are not loose or cracked.  If they are, replaced the cracked boards and add or tighten the screws.
2.  What is the condition of the carpet on the running boards?  Have them recovered if needed.
3.  Look at all your trailer tie down straps.  Are they in good shape?  Replace as needed.
4.  Check the wheel bearings and grease if needed.
5.  Inspect the trailer tires and replace if needed.  Trailer tires only last four to five years, depending on how and where the trailer is stored.
Winter is the perfect time to have your boat professionally serviced.  There is nothing worse than breaking down on the water and having to wait several hours for a tow.  Or worse, not being able to find a tow service, or someone to tow you and being stranded until you are discovered.
If you would like more information about winterizing your boat, or scheduling your annual boat maintenance, please contact us.  Performance Product Technologies has years of experience and plenty of highly-trained technicians to help you with any of your boat maintenance needs.
Tags: storage, winterization