Mercruiser Parts, Mercruiser Engine Parts, Mercruiser Replacement Parts, Mercruiser Boat Parts, Mercruiser Performance Parts
Closed Marine Cooling Systems
When it comes to protecting your engine investment, the cooling and exhaust systems are undoubtedly at the top of the list. PPT offers unmatched expertise regarding both of these systems including their Mercruiser Parts Finder. After having designed and engineered Mercruiser Parts and OEM systems while engineers at Mercruiser, we now offer you the same design and engineering expertise along with the products we offer. We not only offer marine heat exchangers, mercruiser cooling systems, marine water pumps, Mercruiser heat exchangers and other marine cooling systems parts, but will also assist you in determining the best all around product for your particular application. Not all products are the same, while many are acceptable for certain applications and operating conditions many of the newer engines require more efficient cooling systems to support the recently upgraded engines and engine management systems. Trust the thousands of customers nationwide who rely on PPT for all their marine heat exchangers, marine water pumps, Mercruiser heat exchangers and other marine cooling systems parts. Shop our online store today!
The Truth Behind Fresh Water Cooling Systems
The term "Fresh Water Cooling Systems" also known as "Closed Marine Cooling Systems" can be confusing as these systems circulate antifreeze and not water. Marine Fresh Water Cooling systems are similar to the cooling system in an automobile, however, rather than a radiator they utilize a heat exchanger and rather than using air to remove the heat generated by the engine they use lake or ocean water. The heat exchangers are constructed by inserting a tube bundle of small tubes, maybe 150 or more, into a single large tube approximately 4″ – 6″ in diameter. The raw water pump on the engine flows sea water through the inside of the smaller tubes and makes multiple passes back and forth across the unit while removing the heat from the engine before finally exiting and flowing out the exhaust system. The anti-freeze or "jacket water" flows up and down across the outside of the smaller tubes in one single pass as it dispels the heat load of the engine into the raw water. Select the following link to see a diagram of a typical Half System… These systems are thought to be primarily reserved for people who operate in corrosive water conditions, however as you will see these systems have much more to offer than just corrosion protection. One of the main deficiencies of the standard "open" cooling systems is that they rely on a pressure balance for proper functioning. In extreme cases you can be introducing 40 degree water into the circulation loop that is attempting to regulate the engine at 160 degrees. This makes it near impossible for the engine to operate without some amount of cycling. Also with the onset of more stringent emissions regulations it is near impossible for the open systems to produce a stable enough operating condition that the engine spark and fuel mapping can be maximized.
Clcik here to go directly to the Online Store
Click here for Marine Maintenance Products
Select one of the Quick links to take you to your desired product category:
PPT also offers a wide assortment of Heat Exchangers as well as Power Steering and Oil Coolers. Once again not all after market products are the same. We utilize higher tube count bundles for our oil coolers and heat exchangers which means more effective surface cooling area in the same overall package size. The OEM's have began to realize these benefits over the past several years and so should you. Until now the only way to achieve these type of products was to go back with original equipment – no longer! While in some cases we do agree that original equipment is the better option, in these cases we also offer the OEM replacements at the industries lowest available prices, however when there is no specific requirement dictating the OEM replacement don't throw away un-necessary money.
If your looking to replace a worn out marine water pump PPT has a complete line of new marine water pumps. Our pumps utilize stainless steel backing plates, bronze bi-directional impellers as well as ceramic face seals. You will not find a better price on a better product!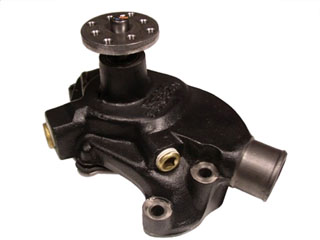 PUMP – Inline 4 & 6 Cylinder Engines
PUMP – V6 & Small V8 Engines
PUMP – Big Block V8 Engines
PPT's High Performance Closed Cooling systems are the industries only product which utilize rotational thermostat housing and intake manifold features.
Rotational Thermostat Housing
Front HP View1
Front HP View2
Side HP