Mercruiser Big V8 V/Serp Belt, Carb/EFI/L29 *High Capacity* Sterndrive, Inboard & V-Drive Models (Full System) (#MFH-5374)
Part #: MFH-5374
This product is no longer available.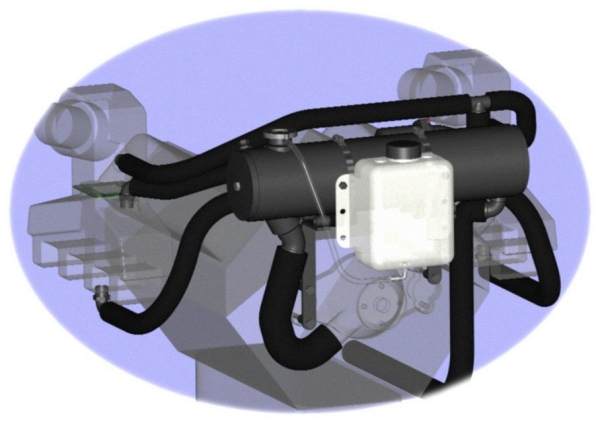 CONVERSION KIT FITS:
MerCruiser Chevy based big block V8 engines 454-502 CID, fits sterndrive, inboard and V-drive. Especially designed for the low capacity raw water pumps used on sterndrive engines. Kit will NOT fit most engines with high mounted alternators such as late model OMC engines. Some engines have fuel line routing and fuel filter location that must be changed slightly. Heat exchanger is 5 1/8" x 22" long and fits within overall length, width, and height of most engine conversions. Heat exchanger extends from the inside of the starboard exhaust manifold towards port side clearing most high mounted power steering pumps if any. See above illustration. Plastic expansion tank mounts either on front of heat exchanger or if space is limited on vertical surface next to engine.
NOTE: This system will not fit 454 or 502 Magnum MPI engines. The picture below is a 7.4L MPI (aka L29). If you aren't sure which model of 454 or 502 you have select the following .....LINK.
COOLING SYSTEM TYPE
Full system: Engine block and exhaust manifold on fresh water system. Exhaust elbows remain on raw water system. System utilizes a new, unique, high performance heat exchanger, with built in, full flow, bypass control thermostat ensuring optimal jacket and exhaust manifold water flow under all operating conditions.
CONVERSION KIT
Kit includes heat exchanger, heavy duty translucent plastic expansion tank plus all other components necessary to complete conversion. Some components from engine are reused. Heat exchanger are finished in black. Hose clamps all stainless.
HEAT EXCHANGER
Shell and tube type. Special new high capacity design. All copper alloy construction made to the highest industry standards. Heavy duty dual demountable clean out end covers. Zinc anode protection.

COOLING SYSTEM CAPACITY
Kit will maintain engine temperature in the 160-170F range using 160F thermostat, included in kit. System has capacity safety margin higher than industry standards.
HEATER SYSTEM HOOKUP
Heaters such as galley water heaters and cabin heaters are easily connected to the system by utilizing the cooling system bypass connections.
INSTALLATION TIME
Very easy installation of approximately 1-2 hours assuming new engine and normal accessibility. Allow additional time for filling and testing. Installation skills are not beyond those of most do-it-yourself boat owners. Complete illustrated installation instructions are included in kit. Ordinary hand tools used.
WARRANTY
Two-year warranty on complete kit. We will not be responsible for labor charges or any indirect or consequential costs or damages.
MONEY BACK GUARANTEE
Full refund if kit is returned within 30 days in original box and in undamaged condition.

To view packaging and installation schematics and Installation instructions select the following links;
...5374 Kit Installation Instructions (Opens in a separate window)
...5374 Kit Specifications (Opens in a separate window)
...Parts Schematic (Opens in a separate window)

---