Marine Longblock: New GM 3.0L 4 Cylinder Base Marine Engine (#GM181BASE)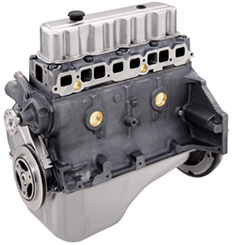 Don't be fooled by cheaper prices. We include the distributor and ignition system with all of our new 3.0L marine longblock engines.

**This engine DOES NOT require a core.** There are various changes that were made on the 3.0L engine throughout the years. The following link will assist you in choosing the correct longblock for you application. Technical Tips. This is a complete NEW, standard rotation long block. Includes valve cover, spark plugs, 14" flywheel, oil pan, timing cover, harmonic balancer, and circulating pump. The engine also includes an electronic distributor and coil.


In 2000 GM began shipping these engines with a 14" flywheel vs. the previous 12-3/4"
If you are replacing a 92 - 99 engine, you will need to reuse your 12-3/4" flywheel. Most of the engines that fall into this category will have the small rectangular port cylinder heads vs. the larger oval port head. However, this can be mis-leading since G.M. produced the oval port head during 92. You can ensure that your flywheel can be reused by identifying the following characteristics with how your existing flywheel mounts to the crankshaft: - (6) Equally spaced fasteners. - "Bolt circle" will measure 3" across
If you are replacing a pre- 92 engine you will need to order product ...p/n GM181BASE_2M which includes all the additional components needed to make the newer style long block work for these older applications.

Includes a 12 month limited warranty.

All specifications, availability, and pricing listed are based on the latest product information available at the time of publication. The right is reserved to make changes.

Select the following link to view the manufacturers warranty policy .....Warranty

Select the following link to view the manufacturers issued installation guidelines .....Installation Guide

Select the following link for engine Break-In procedures.....Engine Break-In

Select the following link to review the procedure for setting timing on this engine.....Timing Procedures
---