3.0L Inline 4 Cylinder Engine Kit, Mercruiser (1968-1990) Replacement (#GM181BASE_2M)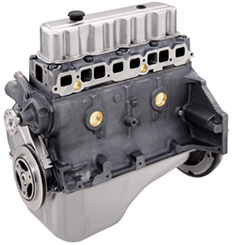 Don't be fooled by cheaper prices. We include the new distributor and electronic ignition system and required parts to fit the older engines with all of our new 3.0L longblocks.

**This engine DOES NOT require a core.** Don''t be fooled by "cheaper" prices or products that don''t come fully equipped. The competition makes claims of products that are priced cheaper however by the time you piece together something that works you will NOT save money. There are various changes that were made on the 3.0L engine throughout the years. Listed below is a link that will assist you in choosing the correct longblock for you application.
This engine includes all of the necessary parts in order to adapt a pre-1990 3.0L engine to a new 1 piece rear main seal GM marine 3.0L engine. Includes flywheel, coupler, manifold gasket, distributor, ignition coil, and fuel pump.
Note: The new distributor on this engine requires that the fuel pump be mounted with the filter on the bottom (select this link to view image of old style "upside down" mounted fuel pump.) Also the fuel pump outlet will be pointing towards the back of the engine and therefore it requires using a marine grade fuel hose to run from the pump up to the carburetor.

Includes an Up To 12 month limited warranty.

All specifications, availability, and pricing listed are based on the latest product information available at the time of publication. The right is reserved to make changes.

Select the following link to view the manufacturers warranty policy .....Warranty

Select the following link to view the manufacturers issued installation guidelines .....Installation Guide
Upon completing any engine order on the website you will be sent a Purchase Sales Agreement which must be completed and returned before the engine will be shipped. This document contains important warranty information and protects both the seller and buyer for the purposes of the sale.
---