Friday, October 17th, 2014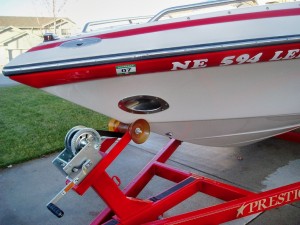 Unless you plan on keeping your boat tied to the dock 24 hours a day, 7 days a week, you'll need a trailer to haul it to and from your home. Once your boat is secured to a proper trailer, you'll have the freedom to take it on practically any road-accessible body of water.
Check The Length
Check to make sure the trailer is long enough to hold your boat. A good rule of thumb to follow when choosing a trailer is to make sure it's at least two feet longer than your boat. Most manufacturers state the length in their product description. If you cannot find it, pull out a measuring tape for a manual reading – assuming you are looking at the trailer in person.
Note: the swim platform of the trailer should not be factored into its length.
Check The Weight
You should also consider the weight limit of a trailer and whether or not it's able to support your boat. This may seem simple enough, but newcomers often make the mistake of measuring their boat's dry weight in relation to the trailer's weight limit.
Dry weight is defined as the boat's barebones weight (hull and motor). A boat's wet weight, on the other hand, consists of its fuel, oil, water, waste, anchor, safety equipment, etc. All of these "extra" items can tack on hundreds of additional pounds to your boat's weight. When shopping for a new trailer, choose a model with a weight limit higher than that of your boat's wet weight.
Bunk vs Roller-Style Trailer
The two most commonly used styles of boat trailers are bunk and roller-style. Bunk trailers are cheaper, easier to maintain, and easier to use. The trailer is partially submerged in the water, at which point the boat is driven directly on and subsequently secured.
Although they are typically more expensive, roller-style trailers offer an easier boat launch. As the name suggests, these trailers have balls which allow the boat to roll off. Also known as glide-path, there's no need to submerge roller-style trailers in the water. Instead, a heavy-duty winch is used to raise the boat on the trailer.
Other Considerations To Make When Choosing a Boat Trailer:
Hydraulic or non-hydraulic.
Construction material (aluminum, steel, etc.)
Check your Department of Transportation to determine the traffic laws regarding boat trailers (note: some states require boat trailers to have built-in brakes).
Tandem-axle style trailers are recommended for heavier boats.
Number of tires.