Saturday, October 6th, 2012
Learn where key areas are and how to find what you are looking for on our new website. Let's take a look at your new stomping ground …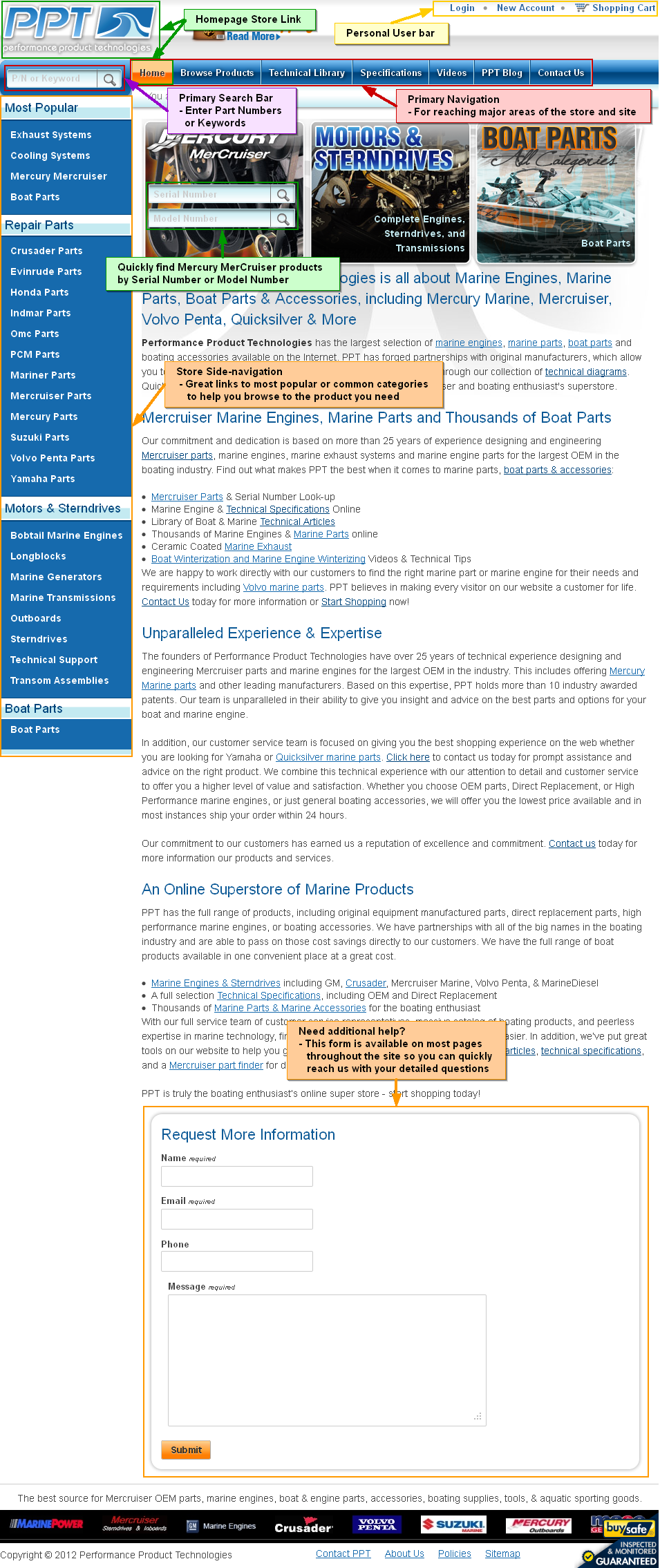 Know how to get HOME
The PPT Logo always links to Homepage:

Primary Search Bar – FIND PRODUCTS
The Primary Search bar is always prominent and visible at the top of website and allows you to search by Part Number or just Keywords: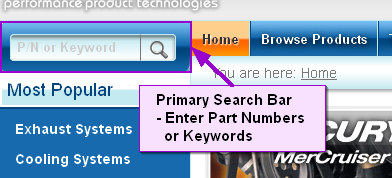 Primary Navigation Bar and Breadcrumb Path Bar
Primary Navigation bar will always be present at the top for reaching major areas of the site:

Personal User Bar – SHOPPING CART
The Personal bar will be present while in the Store area of the site, and is where you can log in and access your shopping cart:

If you don't see the Personal User Bar links at anytime while navigating the website you can navigate back to the Homepage or Browse Products and you will be back in the store area.
Side-Navigation – MOST POPULAR & COMMON CATEGORIES
The Store Side-navigation will have great links to most popular or common categories to help you browse to the product you need: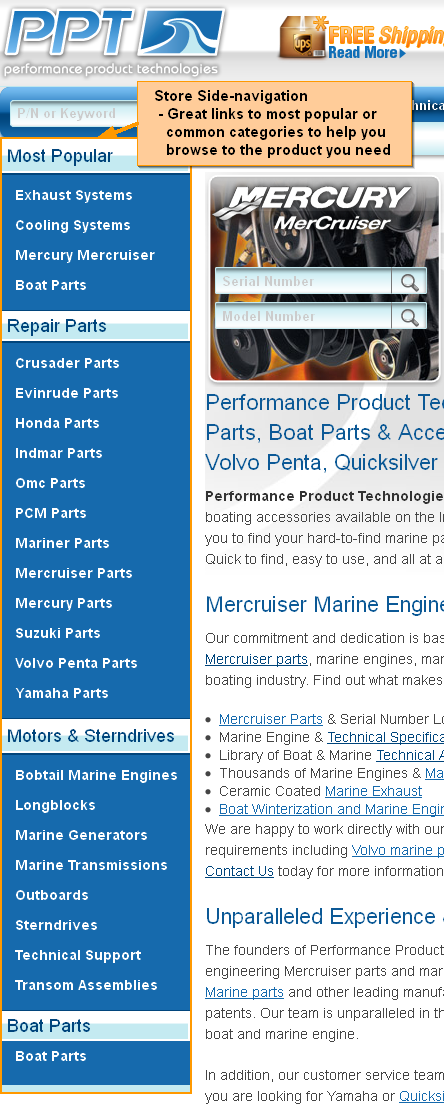 Main Content Area of Website – HOME PAGE
The Main Content area is where products and pages appear and will change according to where you navigate.
The three feature boxes help you:

Find Mercury MerCruiser Parts by specific serial number or model number:

Browse Motors and Sterndrives, the special category area for buying complete Engines, Sterndrives, and Transmissions:

Browse Boat Parts all categories, where you can find high performance equipment accessories, and marine parts for enhancements and maintenance:

The TECH LIBRARY – Find Technical Information
The TECH LIBRARY is your source for information and research.
Are you looking for a product or tech info?
Shopping the STORE – Buy Products
LOOKING FOR …
PARTS w/ PART NUMBER
If looking for a product, do you know the p/n of the product?

If so use the search entry feature
BOAT PARTS w/o PART NUMBER
If you don't know the p/n Are you looking for engine parts or boat parts?

If boat parts select the "Boat Parts" menu and search by category
MERCURY ENGINE PARTS
If engine parts do you know the manufacturer of your engine If mercury and you know the serial number enter it on the main page or Select the Mercury Mercruiser menu in the upper left and search by engine model
NON-MERCURY ENGINE PARTS
If not mercury select from the manufacturer options along the left If you don't know the manufacturer but want to look at specific parts – Use either the sub-menus under Most Popular select the Browse Products menu
ENGINE PART SEARCHING BY PRODUCT NOT MANUFACTURER
Use either the sub-menus under Most Popular or select the main most popular menu
ENGINES, STERNDRIVES, TRANSMISSIONS, ETC
Search the sub-menu's on the left under Motors and Sterndrives
EXHAUST OR COOLING SYSTEM PRODUCTS
Use either the sub-menus under Most Popular select the Browse Products menu
If You Need Assistance