San Juan MC329 Closed Cooling System for Mercruiser Big Block Engines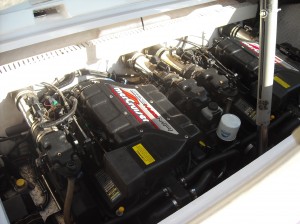 Customer Question: Will this San Juan MC329 closed cooling kit work with the Mercruiser Bravo low water only  pickup drive at extended full speed and idling in extended  wake zone? My motors are Mercruiser 502 mag mpi twins in a Donzi step hull boat. Thank You Martin
PPT Response: The Low Water Pickup (LWP) vs Dual Water Pickup (DWP) should not be an issue because the restriction is actually where the  water  goes thru the transom assembly in that specific fitting. This  is the restriction within the Mercruiser Cooling System by design. Even though the dual water  pickup  seems like it has more open area to take the water  in it gets restricted downstream by that fitting.
The LWP was developed to address the higher speed boat designs that utilize a hull design where the propshaft centerline is "higher" than normal. Therefore the LWP was designed to get the water pickups lower and into the water. However the problem that resulted with the LWP was that it had two inherent flaws. 1) At high speed the LWP would force so much water into the engine that the excess pressure would blow off hoses and cause other related problems to the cooling system from the excess water pressure. 2) The LWP would act like a vacuum cleaner in sandy conditions which caused numerous engine over heat situations from a plugged up cooling systems.
Therefore the design of the Dual Water Pickup (DWP) was done to relieve the excess inlet water pressure experienced by high speed boats equipped with the Low Water Pickup gearcase. More recently the LWP was discontinued because the number of problems this design caused was too high relative to the number of issues it resolved.