Mercruiser Parts, Mercruiser Engine Parts, Mercruiser Replacement Parts, Mercruiser Boat Parts, Mercruiser Performance Parts
Mercury is the world's leading manufacturer of marine propulsion systems. Since the company's inception over 60 years ago, Mercury has set the industry standard with their Mercruiser engines, Mercruiser marine engines and Mercruiser boat engines, known for providing the most powerful marine engines in the world.
Mercury's product line includes Mercury and Mariner outboards, Mercury Mercruiser engines, sterndrives and inboards, Mercury Racing products, Mercury Precision Parts and Accessories, Mercury and Typhoon propellers and Mercury Jet Drives.
Call PPT toll free at (405) 533-3812 or send us an email at [email protected] for more details, there is no better deal available, guaranteed!
MerCruiser™ Engine Table
MerCruiser™ Packages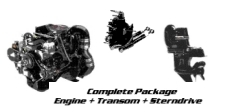 Engine Package Inquiries –

Call (405) 533-3812
Mercruiser packages are the complete deal! What all is included in a package is best described as the entire package including the engine, transom assembly, and sterndrive. The typical items that are NOT included are the propeller and the remote control.
MerCruiser™ Bobtail Engines

Bobtail Engine Inquiries – Call (405) 533-3812
Nobody beats our deals on Mercruiser bobtail engines. A bobtail engine is the complete engine with cooling, electrical fuel system and mounts. Unlike our competitors we do not remove components from the bobtail engine and try to sell them separately. Many of the common items removed include the flywheel housing, coupler, and mounts.