VIKING POWER WASTE WATER PUMPS (#189-101335003)
Part #: 189-101335003
For shipping estimate:
Add to cart then visit your shopping cart to see shipping options and costs.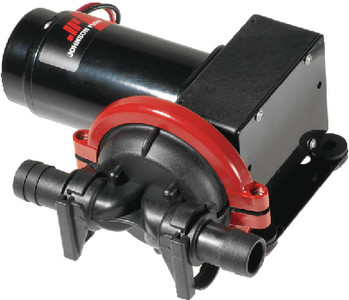 VIKING POWER 16 WASTE WATER PUMP
An ultramodern, single-chamber, self-priming diaphragm pump that can be set up in several different pump/motor configurations. It is easy to install anywhere after the drain outlet in the wastewater system or as a bilge pump in any leisure craft ??? new or used. It???s non-choke valves mean that no in-line filters are necessary, and the pump can not only be run dry, it can also handle a mixture of air and water without difficulty. It is self-priming up to a height of 2-1/2 meters. With its low pulse and muffled rubber bracket, this pump offers quiet operation. When it comes time to replace the premium grade reinforced nitrile rubber diaphragm, you can put in a spare without even removing the pump from the system. Delivered with 1" hose and 3/4" hose 1/2" BSP KlickTite connectors.
---