V6 & Small V8 Mercruiser (w/ V Belts) Standard Capacity 1/2 System (#SK-4802)
Part #: SK-4802
This product is no longer available.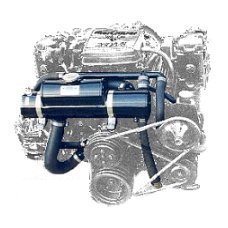 Seakamp Freshwater 1/2 SYSTEM is designed for Mercruiser Chevy based V6 & V8 engines 262 - 305 - 350 C.I.D. sterndrive engines from 1986 thru 1995. This is a STANDARD CAPACITY 1/2 system.
Extend the life of your engine while protecting it from corrosion with this EASY TO INSTALL, quality built, and uniquely designed heat exchanger cooling system.
1. Get improved fuel efficiency through more uniform engine operating temperature
2. Adapts to use of cabin heater in cooler climates
3. Simplifies winterizing
4. Zinc anode helps control electrolysis
5. Kit includes detailed installation instructions
6. Benefit of inhibiting rust antifreeze protection
7. Workmanship and materials are fully guaranteed
This is a complete kit, there is nothing else to buy.
---