Mercury Mercruiser Marine - RISER KIT-3 INCH (#93320A13)
Part #: 93320A13
For shipping estimate:
Add to cart then visit your shopping cart to see shipping options and costs.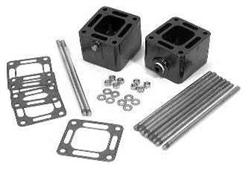 New Original OEM MerCruiser 3" exhaust spacer kit (2 pcs) for center-riser exhaust systems. Spacers are black e-coated. Coating is applied both internally and externally for superior corrosion protection. These are the spacers needed if your exhaust elbows are cast iron. Product Diagram....
---
Mercury Assemblies
MERCRUISER357 Alpha 4V

MERCRUISER357 Mag Bravo 4V

MERCRUISER383 Mag Bravo 4V

MERCRUISER4.3L (GEN +) (4BBL) Reman

MERCRUISER7.4L BRAVO GM 454 V-8 1988-1991

MERCRUISER330 GM 454 V-8 1982-1987

MERCRUISER230 MIE (4 BBL.) GM 305 V-8 1981-1986

MERCRUISER260 MIE GM 350 V-8 1981-1986

MERCRUISER185 (2 BBL.) GM 262 V-6 1985-1987

MERCRUISER205 (4 BBL.) GM 262 V-6 1985-1987

MERCRUISER175 (2 BBL.) GM 262 V-6 1987

MERCRUISER205 (4 BBL.) GM 262 V-6 1987

MERCRUISER4.3L (2 BBL.) GM 262 V-6 1988-1992

MERCRUISER4.3LX (4 BBL.) GM 262 V-6 1988-1992

MERCRUISER200 (2 BBL.) GM 305 V-8 1987

MERCRUISER230 (4 BBL.) GM 305 V-8 1987

MERCRUISER260 GM 350 V-8 1987

MERCRUISER260 (4 BBL.) GM 305 V-8 1987

MERCRUISER350 MAG. ALPHA GM 350 V-8 1987-1995

MERCRUISER5.0L (2 BBL.) GM 305 V-8 1988-1995

MERCRUISER5.0LX (4 BBL.) GM 305 V-8 1988-1995

MERCRUISER5.7L GM 350 V-8 1988-1995

MERCRUISER200 (2 BBL.) GM 305 V-81 1985-1986

MERCRUISER228 (4 BBL.) GM 305 V-8 1982-1984

MERCRUISER230 (4 BBL.) GM 305 V-8 1985-1986

MERCRUISER260 GM 350 V-8 1982-1986

MERCRUISER260 (4 BBL.) GM 305 V-8 1982-1986

MERCRUISER898 (2 BBL.) GM 305 V-8 1983-1984

MERCRUISER4.3L (GEN II) (2 BBL.) GM 262 V-6 1993-1995

MERCRUISER4.3LX (GEN II) (4 BBL.) GM 262 V-6 1993-1995

MERCRUISER7.4L MIE MPI (LH) GEN. VI GM 454 V-8 1996-1997

MERCRUISER8.2L MIE MPI (LH) GEN. VI GM 502 V-8 1996-1997

MERCRUISER4.3L (GEN II) (2 BBL.) GM 262 V-6 1992-1993

MERCRUISER4.3LX (GEN II) (4 BBL.) GM 262 V-6 1992-1993

MERCRUISER5.7L EFI (2 BBL.-TBI) GM 350 V-8 1997

MERCRUISER5.7LX EFI (4 BBL.-TBI) GM 350 V-8 1997

MERCRUISER7.4L TBI MIE (LH) GEN. VI GM 454 V-8 1996-1997

MERCRUISER350 MAG. ALPHA (4 BBL.) GM 350 V-8 1997

MERCRUISER5.7L (2 BBL.) GM 350 V-8 1997

MERCRUISER5.7LX (4 BBL) GM 350 V-8 1997

MERCRUISER4.3LX (GEN +) (2 BBL.) GM 262 V-6 1996-1997

MERCRUISER4.3LXH (GEN +) (4 BBL.) GM 262 V-6 1996-1997

MERCRUISER230 MIE (4 BBL.) GM 305 V-8 1987-1995

MERCRUISER260 MIE GM 350 V-8 1987

MERCRUISER5.0L MIE (4 BBL.) GM 305 V-8 1987-1995

MERCRUISER5.7L MIE GM 350 V-8 1988-1993

MERCRUISER454 MAG. BRAVO (GEN. V) GM 454 V-8 1996-1997

MERCRUISER7.4L BRAVO (GEN. VI) GM 454 V-8 1996-1997

MERCRUISER350 MAG. ALPHA (4 BBL.) GM 350 V-8 1996

MERCRUISER5.7L (2 BBL.) GM 350 V-8 1996

MERCRUISER5.7LX (4 BBL) GM 350 V-8 1996

MERCRUISER4.3L (GEN II) (2 BBL.) GM 262 V-6 1996

MERCRUISER4.3LX (GEN II) (4 BBL.) GM 262 V-6 1996

MERCRUISER262 MAG (TBI)(GEN+)

MERCRUISER7.4L MIE W/HURTH GM 454 V-8 1989-1992

MERCRUISER454 MAG. MPI BRAVO (GEN VI) GM 454 V-8

MERCRUISER502 MAG. MPI BRAVO (GEN VI) GM 502 V-8

MERCRUISER454 MAG MPI BRAVO (GEN VI) GM 454 V-8 1998

MERCRUISER502 MAG MPI BRAVO (GEN VI) GM 502 V-8 1998

MERCRUISER350 MAG MPI ALPHA/BRAVO

MERCRUISER4.3L (GEN +) (2 BBL.) GM 262 V-6 1998

MERCRUISER4.3LH (GEN +) (4 BBL.) GM 262 V-6 1998

MERCRUISER5.0L (2 BBL.) GM 305 V-8 1998-2001

MERCRUISER5.7L (2 BBL.) GM 350 V-8 1998-2001

MERCRUISER5.0L EFI GM 305 V-8 1998

MERCRUISER5.7L EFI GM 350 V-8 1998

MERCRUISER7.4L BRAVO (MPI)(GEN. VI) GM 454 V-8 1998-2000

MERCRUISER350 MAG MPI SKI (GEN+) GM 350 V-8 1998 AND UP

MERCRUISER7.4L MPI MIE (L29) GEN. VI GM 454 V-8 1998-2000

MERCRUISER350 MAG MPI HORIZON MIE

MERCRUISER350 MAG MPI MIE

MERCRUISERMX 6.2L MPI MIE

MERCRUISERBLACK SCORPION 350 MAG SKI (GEN+) V-8 1997-2001

MERCRUISERBLACK SCORPION MX 6.2L SKI (GEN+) V-8 2001-2002

MERCRUISER4.3L EFI (GEN+) TBI GM 262 V-6

MERCRUISER5.0L EFI GM 305 V-8 1999-2001

MERCRUISER5.7L EFI GM 350 V-8 1999-2001

MERCRUISER454 MAG. MPI HORIZON (GEN. VI) GM 454 V-8

MERCRUISER8.2L MIE MPI (GEN. VI) GM 502 V-8

MERCRUISER5.7L COMPETITION SKI (GEN+) GM 350 V-8 1998

MERCRUISERMX 6.2L MPI BRAVO

MERCRUISER5.7L CARB MIE

MERCRUISER350 MAG. MPI MIE (GEN+) GM 350 V-8 1998

MERCRUISER5.7L EFI MIE GM 350 V-8 1997

MERCRUISER350 MAG. EFI SKI (GEN+) GM 350 V-8 1996

MERCRUISERBLACK SCORPION 350 MAG SKI (GEN+) V-8 1996
---