Mercury Mercruiser Marine - PUMP/MOTOR ASSY (#865380A13)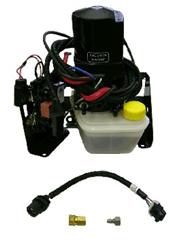 This new Mercruiser replacement Trim Pump replaces the older p/n 14336A20 trim pump. This pump is used on Alpha One, Alpha Gen II and Bravo Drive applications. This Mercruiser product includes the trim pump Motor, trim pump and the reservoir only. This product should be matched to the larger new style trim cylinders.
Important! The plastic reservoirs have changed.

The old style plastic reservoir part number 18525A 1 is no longer sold. If you have a cracked single-screw reservoir tank, you will need to purchase the Top-Mount style reservoir-pump kit 883169A 1. This information is noted in Mercruiser Parts Bulletin 01-04.
**IF REPLACING 2003 & older trim pump, YOU MUST PURCHASE THE REQUIRED QUICK CONNECT FITTINGS. .........Female Fitting .........Male Fitting
---
Mercury Assemblies
<
<
<

MERCRUISERBRAVO X ONE

MERCRUISERBRAVO X THREE

MERCRUISERBRAVO X TWO

<

RACE STERNDRIVE500 Bulldog 1999-2001

<
<

RACE STERNDRIVEScorpion 377 Sterndrive

<
<
<

MERCRUISERBRAVO XR ONE

MERCRUISERBRAVO XR SPORTMASTER

MERCRUISERBRAVO XZ ONE

MERCRUISERINTEGRATED TRANSOM

<
<
<

RACE STERNDRIVE575 SCi

<
<

RACE STERNDRIVE500 EFI

<
<

RACE STERNDRIVE525 EFI

<

RACE STERNDRIVE500 (GEN. +) GM 502 V-8 1999

<
<

MERCRUISER496 MAG (Base Model)

MERCRUISER496 MAG (H.O. Model)

<
<
<
<
<
<
<
<

MERCRUISERR/MR/ALPHA ONE (Sterndrive) 1983-1990

MERCRUISERR/MR/ALPHA ONE (Transom Assembly) 1983-1990

<
<
<
<
<

MERCRUISERBRAVO X ONE

MERCRUISERBRAVO X THREE

MERCRUISERBRAVO X TWO

<
<

RACE STERNDRIVE500 Bulldog 1999-2001

<
<

RACE STERNDRIVEScorpion 377 Sterndrive

<
<
<

MERCRUISERBRAVO XR ONE

MERCRUISERBRAVO XR SPORTMASTER

MERCRUISERBRAVO XZ ONE

MERCRUISERINTEGRATED TRANSOM

<
<

RACE STERNDRIVE575 SCi

<
<

RACE STERNDRIVE500 EFI

<
<
<
<

RACE STERNDRIVE500 (GEN. +) GM 502 V-8 1999

<
<
<
<
<
<
<
<
<

RACE STERNDRIVEScorpion 377 Sterndrive

<
<
<
<

RACE STERNDRIVE575 SCi

<
<
<
<
<
<

MERCRUISERALPHA ONE (GEN.II) 1998 AND UP

<

MERCRUISERALPHA ONE (GEN.II) 1991-1995

<

MERCRUISERBRAVO ONE

MERCRUISERBRAVO THREE

MERCRUISERBRAVO TWO

<
<
<
<
<

MERCRUISERALPHA ONE (GEN.II) 1996-1997

<
<

MERCRUISERBRAVO X ONE

MERCRUISERBRAVO X THREE

MERCRUISERBRAVO X TWO

<

MERCRUISERBLACKHAWK 1994-1995

<
<

RACE STERNDRIVE500 Bulldog 1999-2001

<
<

RACE STERNDRIVEScorpion 377 Sterndrive

<
<
<

MERCRUISERBRAVO XR ONE

MERCRUISERBRAVO XR SPORTMASTER

MERCRUISERBRAVO XZ ONE

MERCRUISERINTEGRATED TRANSOM

<
<

MERCRUISERTR/TRS 1977-1993

<
<
<
<
<

RACE STERNDRIVE575 SCi

<
<

RACE STERNDRIVE500 EFI

<
<

RACE STERNDRIVE500 (GEN. +) GM 502 V-8 1999

<
<
<
<
<
<
<

RACE STERNDRIVE540

<
<

MERCRUISERCMD QSD 2.0 EI 115

MERCRUISERCMD QSD 2.0 EI 130

MERCRUISERCMD QSD 2.0 EI 150

MERCRUISERCMD QSD 2.0 ES 130

MERCRUISERCMD QSD 2.0 ES 150

<
<
<
<
<
<
<
<

MERCRUISER2.0L EI 115

MERCRUISER2.0L EI 130

MERCRUISER2.0L ES 130

<
<
<
<
<
<
<
<
<

RACE STERNDRIVE600 SCi

<
<
<
<
<
<
<
<
<

MERCRUISERCMD QSD 2.0 EI 170

MERCRUISERCMD QSD 2.0 ES 170

<

MERCRUISER8.2L Mag EC (Base Model)

MERCRUISER8.2L Mag EC (H.O. Model)

<
<
<
<
<

MERCRUISER8.2L Mag (Base Model)

MERCRUISER8.2L Mag (H.O. Model)

<
<
<
<

MERCRUISER4.3L MPI ALPHA/BRAVO EC

<
<
<
<
<
<
<
<
<
<

MERCRUISERBRAVO XR THREE

MERCRUISERHI PERFORMANCE TRANSOM

<
<

MERCRUISER496 MAG EC (Base Model)

MERCRUISER496 MAG EC (H.O. Model)

<
<

RACE STERNDRIVE520

<
<

MERCRUISER496 H.O. BRAVO

<

MERCRUISER2.0L EI 150

MERCRUISER2.0L EI 170

MERCRUISER2.0L ES 150

MERCRUISER2.0L ES 170

<

RACE STERNDRIVE565 EFI

<
<
<
<
---