Mercury Mercruiser Marine - PUMP ASSY-TRIM (#865380A25)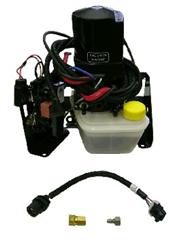 This new Mercruiser replacement Trim Pump replaces the older p/n 14336A17 trim pump. Used on Alpha One, Alpha Gen II and Bravo Drive applications. Matched to the larger new style trim cylinders.
Important! The plastic reservoirs have changed.

NOTE - The old style plastic reservoir part number 18525A 1 is no longer sold. If you have a cracked single-screw reservoir tank, you will need to purchase the Top-Mount style reservoir-pump kit 883169A 1. This information is noted in Mercruiser Parts Bulletin 01-04.
**IF REPLACING 2003 & older trim pump, YOU MUST PURCHASE THE REQUIRED QUICK CONNECT FITTINGS. .........Female Fitting .........Male Fitting
---
Mercury Assemblies
<

MERCRUISERBRAVO X ONE

MERCRUISERBRAVO X THREE

MERCRUISERBRAVO X TWO

<

RACE STERNDRIVE500 Bulldog 1999-2001

<

RACE STERNDRIVEScorpion 377 Sterndrive

<

RACE STERNDRIVE575 SCi

<

MERCRUISERBRAVO XR ONE

MERCRUISERBRAVO XR SPORTMASTER

MERCRUISERBRAVO XZ ONE

MERCRUISERINTEGRATED TRANSOM

<

MERCRUISERALPHA ONE (GEN.II) 1998 AND UP

<

RACE STERNDRIVE500 EFI

<

RACE STERNDRIVE500 (GEN. +) GM 502 V-8 1999

<
<
<
<

MERCRUISERBRAVO X ONE

MERCRUISERBRAVO X THREE

MERCRUISERBRAVO X TWO

<

RACE STERNDRIVE500 Bulldog 1999-2001

<

RACE STERNDRIVEScorpion 377 Sterndrive

<

RACE STERNDRIVE575 SCi

<

MERCRUISERBRAVO XR ONE

MERCRUISERBRAVO XR SPORTMASTER

MERCRUISERBRAVO XZ ONE

MERCRUISERINTEGRATED TRANSOM

<

MERCRUISERALPHA ONE (GEN.II) 1998 AND UP

<

RACE STERNDRIVE500 EFI

<

RACE STERNDRIVE500 (GEN. +) GM 502 V-8 1999

<

MERCRUISER496 MAG (Base Model)

MERCRUISER496 MAG (H.O. Model)

<
<
<

RACE STERNDRIVE525 EFI

<
<

MERCRUISERR/MR/ALPHA ONE (Sterndrive) 1983-1990

MERCRUISERR/MR/ALPHA ONE (Transom Assembly) 1983-1990

<
<
<
<

MERCRUISERBRAVO X ONE

MERCRUISERBRAVO X THREE

MERCRUISERBRAVO X TWO

<

RACE STERNDRIVE500 Bulldog 1999-2001

<

RACE STERNDRIVEScorpion 377 Sterndrive

<

MERCRUISERBRAVO XR ONE

MERCRUISERBRAVO XR SPORTMASTER

MERCRUISERBRAVO XZ ONE

MERCRUISERINTEGRATED TRANSOM

<

MERCRUISERALPHA ONE (GEN.II) 1998 AND UP

<

RACE STERNDRIVE575 SCi

<

RACE STERNDRIVE500 EFI

<

RACE STERNDRIVE500 (GEN. +) GM 502 V-8 1999

<
<
<

RACE STERNDRIVE525 EFI

<
<

RACE STERNDRIVEScorpion 377 Sterndrive

<

RACE STERNDRIVE575 SCi

<
<

RACE STERNDRIVE525 EFI

<
<

MERCRUISERALPHA ONE (GEN.II) 1991-1995

<

MERCRUISERBRAVO ONE

MERCRUISERBRAVO THREE

MERCRUISERBRAVO TWO

<
<

MERCRUISERALPHA ONE (GEN.II) 1996-1997

<

MERCRUISERBRAVO X ONE

MERCRUISERBRAVO X THREE

MERCRUISERBRAVO X TWO

<

MERCRUISERBLACKHAWK 1994-1995

<

RACE STERNDRIVE500 Bulldog 1999-2001

<

RACE STERNDRIVEScorpion 377 Sterndrive

<

RACE STERNDRIVE575 SCi

<

MERCRUISERBRAVO XR ONE

MERCRUISERBRAVO XR SPORTMASTER

MERCRUISERBRAVO XZ ONE

MERCRUISERINTEGRATED TRANSOM

<

MERCRUISERALPHA ONE (GEN.II) 1998 AND UP

<
<

RACE STERNDRIVE500 EFI

<

RACE STERNDRIVE500 (GEN. +) GM 502 V-8 1999

<
<
<
<
<
<
<
<
<
<
<
<
<
<
<
<
<
<
<
<

MERCRUISERBRAVO XR THREE

MERCRUISERHI PERFORMANCE TRANSOM

<

MERCRUISERCMD QSD 2.0 EI 115

MERCRUISERCMD QSD 2.0 EI 130

MERCRUISERCMD QSD 2.0 EI 150

MERCRUISERCMD QSD 2.0 ES 130

MERCRUISERCMD QSD 2.0 ES 150

<
<

RACE STERNDRIVE540

<

MERCRUISER2.0L EI 115

MERCRUISER2.0L EI 130

MERCRUISER2.0L ES 130

<
<
<
<

RACE STERNDRIVE600 SCi

<

MERCRUISERCMD 2.8 EI 170

MERCRUISERCMD 2.8 EI 200

MERCRUISERCMD 2.8 ES 170

MERCRUISERCMD 2.8 ES 200

<
<
<

MERCRUISERCMD QSD 2.0 EI 170

MERCRUISERCMD QSD 2.0 ES 170

<

MERCRUISER8.2L Mag EC (Base Model)

MERCRUISER8.2L Mag EC (H.O. Model)

<

MERCRUISER8.2L Mag (Base Model)

MERCRUISER8.2L Mag (H.O. Model)

<
<

MERCRUISER4.3L MPI ALPHA/BRAVO EC

<

RACE STERNDRIVE520

<
<
<
<
<
<

MERCRUISER496 MAG EC (Base Model)

MERCRUISER496 MAG EC (H.O. Model)

<

MERCRUISER496 H.O. BRAVO

<

MERCRUISER2.0L EI 150

MERCRUISER2.0L EI 170

MERCRUISER2.0L ES 150

MERCRUISER2.0L ES 170

<

RACE STERNDRIVE565 EFI

<

MERCRUISERTR/TRS 1977-1993

<
<
<
---