Mercury Mercruiser Marine - OEM Small V8 Exhaust Manifold (Hot Dipped) (#860246A15)
Part #: 860246A15
For shipping estimate:
Add to cart then visit your shopping cart to see shipping options and costs.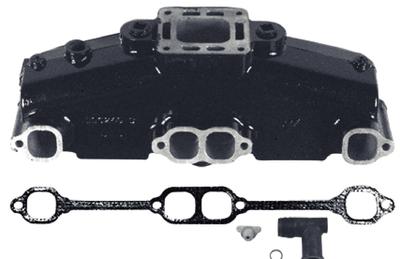 OEM Small block exhaust manifold for 5.0L/5.7L/6.2L small V8 engine applications. This exhaust manifold is hot dipped for superior corrosion protection. Mercruiser OEM exhaust manifolds are cast using lost foam casting technology vs traditional green sand. This means tighter tolerance control and a much more aesthetically appealing product for the customer.
Includes:
Qty 1 Exhaust Manifold
Exhaust-Cylinder head Gasket
90 Degree Inlet Water Fitting w/ Drain Port
---
Mercury Assemblies
MERCRUISER350 MAG MPI SKI

MERCRUISER5.0L (2 BBL.) GM 305 V-8 1998-2001

MERCRUISER5.7L (2 BBL.) GM 350 V-8 1998-2001

MERCRUISER350 MAG MPI HORIZON MIE

MERCRUISER350 MAG MPI MIE

MERCRUISERMX 6.2L MPI MIE

MERCRUISER350 MAG MPI HORIZON ALPHA/BRAVO

MERCRUISER5.0L MPI ALPHA/BRAVO

MERCRUISERMX 6.2L MPI HORIZON BRAVO

MERCRUISERBLACK SCORPION 350 MAG SKI (GEN+) V-8 1997-2001

MERCRUISERBLACK SCORPION MX 6.2L SKI (GEN+) V-8 2001-2002

MERCRUISERMX 6.2L MPI HORIZON MIE

MERCRUISER5.7L COMPETITION SKI (GEN+) GM 350 V-8 1998

MERCRUISER5.7L CARB MIE

MERCRUISER5.0L EFI GM 305 V-8 1999-2001

MERCRUISER5.7L EFI GM 350 V-8 1999-2001

MERCRUISERMX 6.2L MPI BRAVO

MERCRUISER357 Alpha 4V

MERCRUISER357 Mag Bravo 4V

MERCRUISER383 Mag Bravo 4V

MERCRUISER350 MAG MPI ALPHA/BRAVO

MERCRUISER5.0L EFI GM 305 V-8 1998

MERCRUISER5.7L EFI GM 350 V-8 1998

MERCRUISER350 MAG MPI SKI (GEN+) GM 350 V-8 1998 AND UP

RACE STERNDRIVEScorpion 377

MERCRUISER350 MAG. MPI MIE (GEN+) GM 350 V-8 1998

MERCRUISER5.0L EFI GM 305 V-8 1998

MERCRUISER5.7L EFI GM 350 V-8 1998

RACE STERNDRIVEScorpion 377 Sterndrive

MERCRUISER5.7L COMPETITION SKI (GEN+) GM 350 V-8 1998

MERCRUISER5.0L EFI GM 305 V-8 1999-2001

MERCRUISER5.7L EFI GM 350 V-8 1999-2001

MERCRUISER5.7L EFI MIE GM 350 V-8 1997

MERCRUISER5.7L EFI MIE GM 350 V-8 1997

MERCRUISER350 MAG. ALPHA GM 350 V-8 1986-1987

MERCRUISER320 (EFI) GM 350 V-8 1987

MERCRUISER5.7L COMPETITION SKI GM 350 V-8 1987-1995

MERCRUISER320 (EFI) GM 350 V-8 1988-1989

MERCRUISER350 MAG. ALPHA (4 BBL.) GM 350 V-8 1996

MERCRUISER5.7L (2 BBL.) GM 350 V-8 1996

MERCRUISER5.7LX (4 BBL) GM 350 V-8 1996

MERCRUISER200 (2 BBL.) GM 305 V-8 1987

MERCRUISER230 (4 BBL.) GM 305 V-8 1987

MERCRUISER260 GM 350 V-8 1987

MERCRUISER260 (4 BBL.) GM 305 V-8 1987

MERCRUISER350 MAG. ALPHA GM 350 V-8 1987-1995

MERCRUISER5.0L (2 BBL.) GM 305 V-8 1988-1995

MERCRUISER5.0LX (4 BBL.) GM 305 V-8 1988-1995

MERCRUISER5.7L GM 350 V-8 1988-1995

MERCRUISER200 (2 BBL.) GM 305 V-81 1985-1986

MERCRUISER228 (4 BBL.) GM 305 V-8 1982-1984

MERCRUISER230 (4 BBL.) GM 305 V-8 1985-1986

MERCRUISER260 GM 350 V-8 1982-1986

MERCRUISER260 (4 BBL.) GM 305 V-8 1982-1986

MERCRUISER898 (2 BBL.) GM 305 V-8 1983-1984

MERCRUISER350 MAG. EFI SKI (GEN+) GM 350 V-8 1996

MERCRUISER5.7L (SKI) GM 350 V-8 1985-1987

MERCRUISER350 MAG. EFI SKI (TBI) GM 350 V-8 1994-1996

MERCRUISER350 MAG (SKI) GM 350 V-8 1991-1996

MERCRUISER5.7L EFI (2 BBL.-TBI) GM 350 V-8 1996

MERCRUISER5.7LX EFI (4 BBL.-TBI) GM 350 V-8 1996

MERCRUISER350 MAG. BRAVO MPI GM 350 V-8 1995

MERCRUISER5.7L ALPHA EFI (TBI) GM 350 V-8 1995

MERCRUISER5.7L BRAVO EFI (TBI) GM 350 V-8 1995

MERCRUISER350 MAG MPI SKI GM 350 V-8 1995-1996

MERCRUISER5.7L MIE GM 350 V-8 1994-1995

MERCRUISER350 MAG. BRAVO MPI(GEN+) GM 350 V-8 1997

MERCRUISER350 MAG (SKI) GM 350 V-8 1997

MERCRUISER350 MAG EFI SKI (GEN+) GM 350 V-8 1997

MERCRUISER350 MAG. ALPHA EFI(GEN+) GM 350 V-8 1997

MERCRUISER5.7L EFI (GEN+) REPOWER PLUS GM 350 V-8

MERCRUISER5.7LX BRAVO EFI (GEN+) GM 350 V-8 1997

MERCRUISER5.7L EFI (2 BBL.-TBI) GM 350 V-8 1997

MERCRUISER5.7LX EFI (4 BBL.-TBI) GM 350 V-8 1997

MERCRUISER5.7L MIE GM 350 V-8 1997

MERCRUISER350 MAG. BRAVO MPI(GEN+) GM 350 V-8 1996

MERCRUISERBLACK SCORPION 350 MAG SKI (GEN+) V-8 1996

MERCRUISER350 MAG. ALPHA EFI(GEN+) GM 350 V-8 1996

MERCRUISER5.7LX BRAVO EFI (GEN+) GM 350 V-8 1996

MERCRUISER5.7L MIE GM 350 V-8 1996

MERCRUISER230 MIE (4 BBL.) GM 305 V-8 1987-1995

MERCRUISER260 MIE GM 350 V-8 1987

MERCRUISER5.0L MIE (4 BBL.) GM 305 V-8 1987-1995

MERCRUISER5.7L MIE GM 350 V-8 1988-1993

MERCRUISER350 MAG. ALPHA (4 BBL.) GM 350 V-8 1997

MERCRUISER5.7L (2 BBL.) GM 350 V-8 1997

MERCRUISER5.7LX (4 BBL) GM 350 V-8 1997

MERCRUISER5.7L COMPETITION SKI GM 350 V-8 1996

MERCRUISER5.7L COMPETITION SKI GM 350 V-8 1997

MERCRUISER350 MAG. EFI SKI (GEN+) GM 350 V-8 1996

MERCRUISER350 MAG. BRAVO MPI(GEN+) GM 350 V-8 1997

MERCRUISER350 MAG EFI SKI (GEN+) GM 350 V-8 1997

MERCRUISER350 MAG. ALPHA EFI(GEN+) GM 350 V-8 1997

MERCRUISER5.7L EFI (GEN+) REPOWER PLUS GM 350 V-8

MERCRUISER5.7LX BRAVO EFI (GEN+) GM 350 V-8 1997

MERCRUISER350 MAG. ALPHA EFI(GEN+) GM 350 V-8 1996

MERCRUISER5.7LX BRAVO EFI (GEN+) GM 350 V-8 1996

MERCRUISER230 MIE (4 BBL.) GM 305 V-8 1981-1986

MERCRUISER260 MIE GM 350 V-8 1981-1986

MERCRUISER300 TEMPEST GM 350 V-8 1985-1986
---