OEM Mercruiser 2005 & Newer V8 Cast Iron Dry Joint Exhaust Manifold & "Tall" 14 Degree Riser Kit (#EK-MERC-DJ2-57L-NS)
Part #: EK-MERC-DJ2-57L-NS
For shipping estimate:
Add to cart then visit your shopping cart to see shipping options and costs.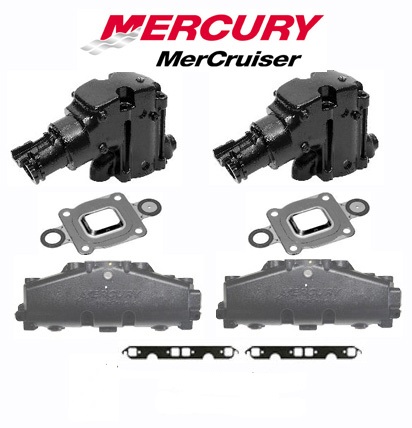 Fits Engines in the following serial number range: s/n 0W310000 & Up
Dry joint exhaust kit for a raw water cooled 2005 & newer (s/n 0w310000 & Up) 5.0L/5.7L Mercruiser V8 engines. This kit includes the manifolds and risers along with the manifold and (restrictor style) riser gaskets necessary for installation. The parts in this kit are Mercruiser original eqipment and made from cast iron.
NOTE: Tall Dry Joint Elbow p/n 864591T02 s/n 310000 and above (post 2005 models) - Measures 6.7 from elbow flange to mounting bolt bass pad.

NOTE: Available Dry Joint Style Spacer Kits - There are a variety of new Dry Joint Spacer kits available based on the required height. Therefore if you are replacing an existing Dry Joint exhaust system just measure the spacers you are replacing. If you are replacing a NON Dry Joint Exhaust system that requires spacers you will want to use the "SHORT" riser along with either the 3" or 6" spacer depending on the system you are replacing.. SELECT THIS LINK TO VIEW EXHAUST SPACER DIAGRAMS.
Detailed Part List:
| | | |
| --- | --- | --- |
| Manifold: | 865735A02 | Qty 2 |
| Riser: | 864591T02 | Qty 2 |
| Gasket (Riser): | 864850A02 | Qty 2 |
---