New GM 350 Longblock - 5.7L Vortec for Years 1996 - Current, Models Carb, TBI & MPI w/ Crank Position Sensor (#2541-S1)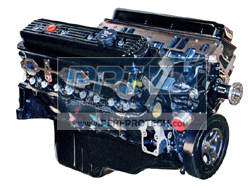 **No core required**
This longblock is for GM Based Small V8 applications including Mercruiser, Volvo Penta, Crusader, Indmar, Marine Power, etc. There are various changes that were made on the 5.7L engine throughout the years. Select the following link that will assist you in choosing the correct longblock for you application. Technical Tips. This engine comes complete with all associated tin-ware (oil pan, valve covers, timing cover, harmonic balancer and a water pump), they DO NOT INCLUDE the flywheel, These engines can easily be identified by the (8) bolts used to fasten the intake manifold to the cylinder heads.
NOTE: It should be noted that the Vortec 5.7L longblocks are supplied WITHOUT a crank position sensor in the front timing chain cover. Therefore you must remove your existing crank position sensor and re-install it in the timing chain cover of the new longblock, otherwise the engine will leak oil out of this open hole. If your old engine did not utilize a crank position sensor you must purchase one to plug this hole as it requires this special o-ring type seal.


Specifications:
Type: 90° 5.7L V8
Displacement:350 cid(5736.50cc)
Compression Ratio: 9.4:1
Valve Configuration: Pushrod Actuated
Valve Lifters: Hydraulic Roller
Bore x Stroke: 4.00x
3.48in(101.60x88.39mm)
Main Bearing Caps: 2-Bolt Cast Iron
Balance Method: External
Horsepower:
295hp@5000 rpm (PFI)
Torque: 355 lb-ft@3600 rpm (PFI)
Materials:
Block: Cast Iron Intake Manifold: Customer Supplied
Firing Order: 1-8-4-3-6-5-7-2
Oil Pan Capacity: 5qt
Fuel Types: Gasoline (unleaded)
Engine Rotation: Clockwise (from the front)
Paint Protection: Component Painted
Shipping Weight: 500Lb

To compare prices on the remanufactured version of this engine select this link....Remanufactured Engine
For more details about product installation, select the following link for details. Engine Installation Information
Includes an Up To 12 month Limited Warranty.
Upon completing any engine order on the website you will be sent a Purchase Sales Agreement which must be completed and returned before the engine will be shipped. This document contains important warranty information and protects both the seller and buyer for the purposes of the sale.
All specifications, availability, and pricing listed are based on the latest product information available at the time of publication.The right is reserved to make changes at any time without notice.
---