Mercruiser 1997 - 2001 Small V8 MPI w/ Serpentine Belt & High Port Side Mounted Power Steering "Standard Capacity" (#MC325-8)
Part #: MC325-8
This product is no longer available.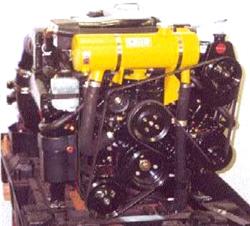 This is a standard capacity system designed for Sterndrive Mercruiser & GM based 5.0L/5.7L V8 MPI (multiport fuel injection) (no TBI or Carbureted) engines with SERPENTINE BELT & HIGH PORT SIDE MOUNTED POWER STEERING.
Fits inboards and V-drives - specify when ordering
System works with Vortec engine (8 bolt intake manifold not 12 bolt) and Alpha One or Bravo Outdrive''s. This is a 1/2 system, cooling the engine block only. System mounts on the front of the engine. Raw water inlet must run up the front of the engine. Kit comes complete with detailed installation instructions.
If engine is equipped with 3" or 6" spacer blocks between exhaust manifolds and riser, the appropriate ADDITIONAL Mercruiser Riser Extension Kit must be ordered.
Link to Installation Instructions (Opens in a Seperate Window)


---