Mercruiser 1985 - 1997 4.3L V6 with V Belts - *Premium - High Capacity* (Full System) (#5230-6)
Part #: 5230-6
This product is no longer available.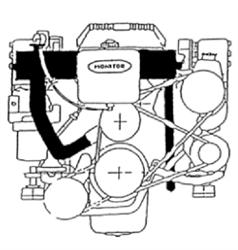 This is a high capacity CLOSED COOLING SYSTEM is designed for Mercruiser Chevy based V6 engines 262 CID sterndrive for model years 1985 thru 1999, with either V-Belts or Serpentine Belt.
Don't be sold strictly on pricing. The High Capacity products are priced slightly higher than other standard after market systems. However, this system is the only "OEM" duplicated product on the market, even manufactured by the same company that produces the OEM systems for Mercruiser, Volvo Penta, Yanmar, Westerbeke, Polaris, and others. This system utilizes a higher number of cooling tubes, more passes on the sea water portion of the cooler, as well as includes "sealed" dividers. This is the same design technology used by Mercruiser and Volvo Penta on their OEM systems. These systems are especially designed for the low capacity raw water pumps used on sterndrive engines.
Will NOT fit engines with high mounted alternators and/or v-drives. Heat exchanger extends from extreme starboard side of a normal exhaust manifold towards port side clearing most high mounted power steering pumps if any (See above illustration). Plastic expansion tank mounts either on front of heat exchanger or if space is limited on vertical surface next to engine. Full system - Block and manifold. Engine block and exhaust manifold on fresh water system. Exhaust elbows remain on raw water system. System utilizes a new, unique, high performance heat exchanger, with built in, full flow, bypass control thermostat ensuring optimal jacket and exhaust manifold water flow under all operating conditions.
Kit includes heat exchanger, heavy duty translucent plastic expansion tank plus all other components necessary to complete conversion. Some components from engine are reused. Heat exchanger painted black. Brackets and other components painted black or zinc plated. All hose clamps are stainless. Shell and tube type. C12200 all copper alloy construction made to the highest industry standards. Heavy duty dual de-mountable clean out end covers. Zinc anode protection.
NOTE: This system extends about 9" forward of the center of the water outlet on the intake manifold and 9.50" above the water outlet gasket surface. That is without the expansion tank mounted to the front of the heat exchanger.
MFH-5230-6A System Specifications (opens in a new window)
MFH-5230-6A Kit Installation Instructions (opens in a new window)
Two year warranty on complete kit.
---