Mercury Mercruiser Marine - HOSE KIT-RIGGING (#32-825191A03)
Part #: 32-825191A03
For shipping estimate:
Add to cart then visit your shopping cart to see shipping options and costs.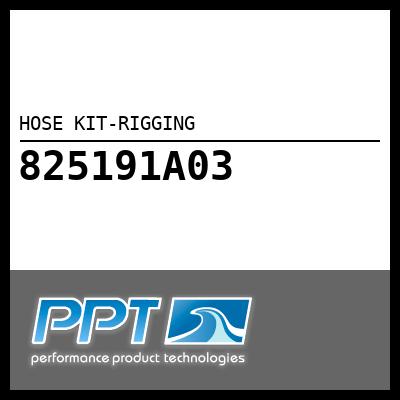 Rigging Tube Kit
Rigging Tube kit includes 5 ft length (2 ) tube that screws into the fitting coming out of the Verado. If OptiMax engine, requires the use of the clamp to attach to fitting coming out of engine. Included in the kit is plastic transom fitting that screws to the tube and can be fastened to the boat.
2005 Verado and all V6 engines
---
Mercury Assemblies
MERCURY300 VERADO (4-STROKE)(6 CYL.)

MERCURY200 PRO VERADO (4-STROKE)(6 CYL.)

MERCURY250 PRO VERADO (4-STROKE)(6 CYL.)

MERCURY300 PRO VERADO (4-STROKE)(6 CYL.)

MERCURY200 PRO XS (DFI) 3.0L

MERCURY250 (DFI) 3.0L

MERCURY200 (3.0L DFI)(DTS)

MERCURY225 (3.0L-DFI)(DTS)

MERCURY140 JET

MARINERMAGNUM III

MERCURYV-135

MERCURYV-140 (INTERNATIONAL)

MARINERV-150

MERCURYV-200

MERCURYXR-6

MERCURY200 VERADO (4-STROKE)(6 CYL.)

MERCURY225 VERADO (4-STROKE)(6 CYL.)

MERCURY250 VERADO (4-STROKE)(6 CYL.)

MARINER275 VERADO (4-STROKE)(6 CYL.)

MERCURY200 (DFI) 3.0L

MERCURY225 (DFI) 3.0L

MERCURY200 VERADO (4-STROKE)(4 CYL.)

MERCURY135 VERADO (4-STROKE)(4 CYL.)

MARINER150 VERADO (4-STROKE)(4 CYL.)

MARINER175 VERADO (4-STROKE)(4 CYL.)

MERCURY350 PRO VERADO (4-Stroke)(6 CYL.)

MERCURY350 VERADO (4-Stroke)(6 CYL.)

MERCURY400 VERADO (4-Stroke)(6 CYL.)

MERCURY200 (DFI)

MERCURY225 (DFI)

BOATSMODEL 360 BARQUE

BOATSMODEL 400 BARQUE

BOATSMODEL 425 OPEN

BOATSMODEL 440 BARQUE

BOATSMODEL 470 SPORT

BOATSMODEL 485 DAY CRUISER

BOATSMODEL 500 COMMANDER

BOATSMODEL 500 OPEN

BOATSMODEL 605 TIMONIER

BOATSMODEL 630 WA

BOATSMODEL 750 COMMANDER (Outboard)

BOATSMODEL 750 COMMANDER (Sterndrive)

BOATSMODEL 750 CRUISER (Sterndrive)

MERCURY140 JET

MARINERMAGNUM III

MERCURYV-135

MERCURYV-140 (INTERNATIONAL)

MARINERV-150

MERCURYV-200

MERCURYXR-6

MERCURY200 (DFI) 3.0L

MERCURY225 (DFI) 3.0L

MARINER225 EFI (4-STROKE)
---