High Capacity "FULL" System - Early Model GM 4.3L/5.7L V6/V8 w/ V-Belt (#MFH-5230-gm)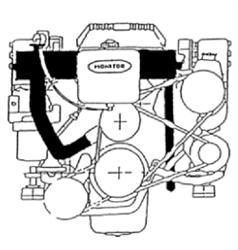 NOTE: If your engne is equipped with fuel line as shown in the following pictures, it is required to install a flexible fuel line to allow clearance around the thermostat housing included in this FWC kit.... Fuel Line 1....Fuel Line 2...
The following links are for pictures of a typical early model marinized General Motors small V8, such as this system is intended to fit. Select the following links to see if this is representative of your particular engine. Image 1.... Image 2.... Image 3....
NOTE: Please be aware of the following issues when installing this kit on a Volvo Penta engine
• Volvo-Penta uses a 1" Dia hose from the circ pump to the heat exchanger. This kit is set up for 1-/14 dia hose connections
• Volvo-Penta uses ¾" Dia exhaust manifold hose connections. This kit is set up for 1" dia hose connections
• The temperature sending units and switch located on the thermostat housing are 3/8 NPT thread which will have to be accommodated for Volvo Penta applications suign the smaller dia thread.
It should be noted that many OEM engine marinizers did not have standard providions for FULL fresh water cooling on their stock product. As can be seen in Image 3, the exhaust manifolds do not have the required fittings standard to allow for glycol to be circulated thru the manifolds and then returned to the heat exchanger. However, it is common for customers to make the necessary modification of adding the fittings to the manifolds, and adding a blockoff plate between the manifold and riser such that they can utilize a true full system on their product.
Specifications: Mercruiser Chevy based V6-V8 engines 262-305-350 CID both sterndrive and inboard. Especially designed for the low capacity raw water pumps used on sterndrive engines. Will NOT fit most engines with high mounted alternators and/or v-drives. Some engines have fuel line routing and fuel filter location that must be changed slightly. Heat exchanger is 4 1/8" x 23.5" long and fits within overall length, width, and height of most engine conversions. Heat exchanger extends from extreme starboard side of a normal exhaust manifold towards port side clearing most high mounted power steering pumps if any. See above illustration. Plastic expansion tank mounts either on front of heat exchanger or if space is limited on vertical surface next to engine. Full system. Block and manifold. Engine block and exhaust manifold on fresh water system. Exhaust elbows remain on raw water system. System utilizes a new, unique, high performance heat exchanger, with built in, full flow, bypass control thermostat ensuring optimal jacket and exhaust manifold water flow under all operating conditions. Kit includes heat exchanger, heavy duty translucent plastic expansion tank plus all other components necessary to complete conversion. Some components from engine are reused. Heat exchanger painted black. Brackets and other components painted black or zinc plated. All hose clamps are stainless. Shell and tube type. Redesigned to achieve a higher cooling capacity. All copper alloy construction made to the highest industry standards. Heavy duty dual de-mountable clean out end covers. Zinc anode protection.
NOTE: This system extends about 9" forward of the center of the water outlet on the intake manifold and 9.50" above the water outlet gasket surface. That is without the expansion tank mounted to the front of the heat exchanger.
MFH-5230-gm System Specifications (opens in a new window)
MFH-5230-gm Kit Installation Instructions (opens in a new window)
Two year warranty on complete kit.
---