Engine - GM, 5.0L, V8, Rev Rot, Non Tin (#GM305RB)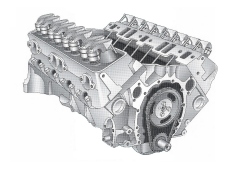 85-87 5.0L (305 CID) V-8 remanufactured long block GM engine. Reverse rotation and does not include tin ware (timing cover and oil pan.) Casting numbers 535, 551, 627, 058.
1 piece rear main seal. Valve covers bolt around perimeter. Double check rear main seal. This is not a very common engine.
Long Block Features

24-month Limited Warranty*
new Pistons, Moly Rings
Marine Cam and Lifters
Brass Block Plugs
New Rod, Main and Cam Bearings
New H.D. Timing Chain and Gears
New Oil Pump
new Marine Gasket Set
Block Resurfaced, Bored and Honed
Crankshaft Reconditioned
Connecting Rods Reconditioned
Valve Guides Reconditioned
Heads Resurfaced
New Valve Springs
Three-Angle Valve Job
Spin Tested
Pressure Tested


*See Warranty For Details

Terms

Engines shipped FOB from 1 of our 10 warehouses
Engines sold on outright basis (except 4 cylinder and 454 engines require a core return.)
All engines returned with freeze crack, salt water and connecting rod blowouts will receive 1/2 core value.
All eninges are sold C.O.D. or prepaid
Store Hours: 8 a.m. to 5:30 p.m. CST Monday through Friday.

*Tin Ware includes timing cover and oil pan already installed.

For more warranty information click: Warranty Information....

Core Return Policy
Cores must be paid in full at the time of sale. All 4-cylinder and 454 engines require a core return. All cores must be shipped prepaid unless pre-arranged with FirstMate Marine. Deduction will be assessed for missing parts and damaged blocks. All 454 cores will be given full core credit when core has been returned. FirstMate Marine, at their expense, will arrange pickup on all 454 cores. Call 1-800-437-1779 for core shipping instructions.

Priming
FirstMate Marine recommends priming all engines with a pressure pre-oiler.




Freight Inspection
Please inspect all engines before signing the freight bill. If there is freight damage, we need to start a claim with the freight line.
---