CDI ELECTRONICS CENTERFILDR II-TWIN ENG 12/24V (CFII-12/24) (#684-CFII1224)
Part #: 684-CFII1224
For shipping estimate:
Add to cart then visit your shopping cart to see shipping options and costs.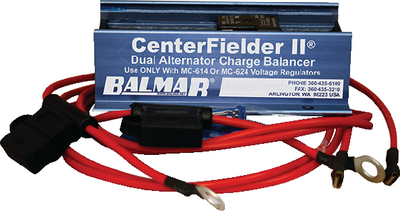 CENTERFILDR II-TWIN ENG 12/24V
CENTERFILDR II-TWIN ENG 12/24V
For use with twin engine applications. The Centerfielder allows port and starboard charging systems to work together and offer the outut from both alternators to be combined and optimize charging output. For use with MC-614 and MC-624 Max Charge regulators only.
Centerfielder II Dual Alternator Charge Balancer
The Centerfielder II balances twin-engine charging systems by monitoring port and starboard voltage regulators. When both alternators and voltage regulators are working, the Centerfielder II automatically splits field output from the dominant regulator to both alternators, making it possible to charge a single house battery bank with the combined output of both alternators. Use only with Max Charge MC-612, MC-614, or MC-624 voltage regulators. Do not install in systems utilizing internally regulated alternators.

Balances charging in twin engine applications


Works in both 12-volt and 24-volt applications


Isolates alternators and regulators when only one engine is running


Provides field current from a single regulator to both port and starboard alternators when both engines are in operation


Fused 12 ga. power wires (2) w/15A ATC fuse included
Description

Centerfielder II, 12/24V, w/wires

Fits

MC-612, MC-614, MC-624
---