Yamaha Outboards: New In-Line Four Strokes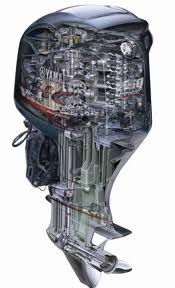 With plenty of summer left for boating, Yamaha announced its new family of in-line four strokes. The models include the F115, F175 and F200, which offers boaters three more choices from the original Yamaha F150 four-stroke. These versatile, four cylinder Yamaha outboards feature electronic fuel injection, which gives recreational boaters powerful cruising for bass boats, pontoons, offshore boats and sports like water skiing and tubing.
Benefits of Yamaha In-Line Four Strokes
According to Yamaha, the following benefits are standard with all their I4 outboards:
Power – The 16-valve dual overhead camshaft responds quickly for the power you need for all types of boating. Lighter in weight than V-6 outboards, the i4s have a great power-to-weight ratio.
Fuel Economy – The electronic fuel injection feature of the I4 outboards features an Engine Control Module with four fuel injectors for each cylinder. The ECM makes for efficient use of fuel and better performance.
Acceleration – The 10mm offset crankshaft, along with torque boosting intake tubes, provides speedy acceleration and powerful midrange punch.
Smooth Operation – These outboards are compact, light, and equipped with a silencer box and surge tank, which provide a quieter, smoother ride.
Microcomputer Ignition – The microcomputer ignition provides optimum performance as it adjusts timing to maintain the I4's engine performance.
Low-Emissions – The entire line of Yamaha In-Line Four Strokes pass all the federal EPA regulations and have a three-star rating for ultra-low emissions by the California Air Resources Board.
The Yamaha I4 outboard models supply cruising speeds that will satisfy seasoned boaters, as well as newbies.
Contact us at Performance Product Technologies for all your marine parts and engines. Our marine product specialists can give you all the information you need to choose the right marine parts to get you cruising in no time.