Why Is My Boat Difficult To Steer?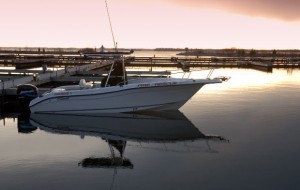 It's hard to enjoy a day at the lake when you're boat isn't responding to the steering wheel. Making otherwise simple turns can prove to be a challenge. Before you head to the closest marina/repair shop, however, you should first attempt to diagnose and fix the problem yourself.
Not Enough Grease
If your boat's steering is unusually stiff, you should first check to make sure there's adequate grease on the motor. Grease is necessary to keep the components moving and functioning as they are intended. Without this lubrication, the steering wheel may be difficult to turn.
Look under the power head of your motor where the motor pivots on the shaft. There should be several well-greased nipples here to promote smooth, unrestricted movement. A good rule of thumb is to grease this area about once every 12 months. If it's been longer than 12 months since you've added grease to this area, or if there's little-to-no visible grease remaining, go ahead and add some.
Steering Cable Corrosion
Another possible reason why your boat is difficult to steer is the presence of corrosion around the steering cable. When rust and corrosion settles on the cable, it can restrict its normal movement; thus, causing "stiffness" in the steering. This is especially problematic in saltwater boats, as salt speeds up the corrosion process while simultaneously leaving behind grains of abrasive salt.
Depending on the severity of the corrosion, you may be able to clean the cable by scrubbing it. There are several high-quality motor cleaning products that work wonders on steering cables. Just as an employee at your local boat supply store for a recommendation. If the corrosion has eaten through the cable, however, your best bet is to replace it.
Grease Entering The Support Tubes
There are support tubes located on the of the engine which have grease fittings. In some cases, the grease from these fittings will get sucked into the support tubes. When this occurs, the grease is pumped up through the cable jacket, resulting in a phenomenon known as a hydraulic lock. Unfortunately, the only way to fix this problem is to replace the entire cable.
These are just a few of the most common reasons why boats are difficult to steer. Go through each of these scenarios to troubleshoot and identify your problem. Failing to address this problem could lead to further damage of your boat's motor and its respective components.