Boating in Oklahoma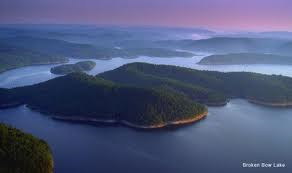 Oklahoma is usually not considered a coastal state. Anyone who calls Oklahoma "land locked" must not be aware of the over 200 lakes in the state where scores of tourists and natives go boating, swimming, fishing, and more each year. One of the most important bodies of water that makes Oklahoma a hub for water recreation and travel is the McGee Creek Reservoir. Located in the McGee Creek State Park in Atoka County, the lake features the best fishing in the state and camping all year long. Lake Hefner and Grand Lake provide a luxurious boating experience.
McGee Creek Reservoir is home to wildlife of all kinds. Catch a giant trophy bass to make for dinner at the campgrounds, or get an authentic hunting experience at the nearby Bugaboo Canyon Natural Scenic Area. Get a permit for your fishing boat and come fish the expansive 3,350 acre lake. Replace any parts needed on your fishing boat with Mercury or Mercruiser parts from the 2014 Performance Product Technologies catalog.
Lake Hefner is a great option for sailboat enthusiasts. Set up camp and then get out on the water, catch a breeze, and take a relaxing trip around one of the biggest lakes in Oklahoma. This Oklahoma City reservoir also features recreational fishing of large and smallmouth bass, channel catfish, walleye, and bluegill. Lake Hefner and Grand Lake are also adjacent to upscale lakeside communities for the more refined camping experience.
This summer, vacation in Oklahoma, home to Performance Product Technologies a wide range of water recreation activities.