Friday, October 17th, 2014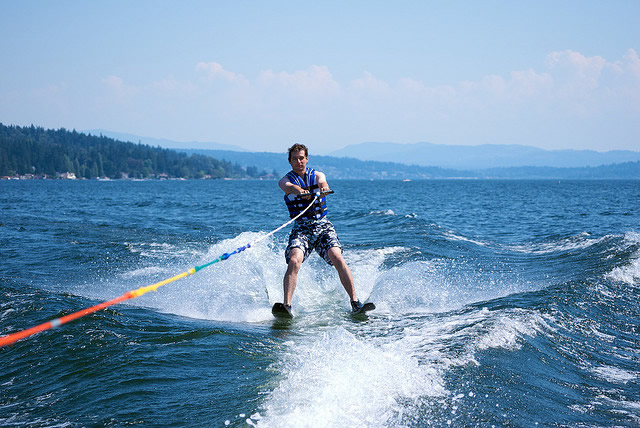 Water skiing is a fun recreational summer activity enjoyed by millions of people each year. It involves the use of two skis (one worn on each foot) while being pulled by a boat or high-powered jet ski. The skier leans back in the water, at which point the "tug" from the boat pulls them upright. Assuming the skier has adequate upper-body strength and balance and knows the ropes of skiing, he or she should be able to maintain their stability while the boat pulls them across the water.
Most people assume this sport is safe, with little-to-no risk of injury, but there have been numerous documented reports of injuries – both minor and severe – involving water skiing. By following some simple precautions, however, you can safely enjoy this sport without placing yourself at risk for injury.
Look Forward
Although it's tempting to look back and watch the skier, the boat operator should keep his or her eyes focused forward. A second person on board the boat should be designated with the task of watching the skier. If the skier falls off, this person should let the boat operator know immediately, so they can turn around to retrieve the fallen skier.
Keep Your Distance
A good rule of thumb is to maintain a minimum of 200 feet clearance of skiing space (wide). This allows the skier to move around without fear of hitting an object. The boat operator should constantly be scanning the horizon, looking for rocks, tree stumps, other boats, swimmers, and debris in the water.
In addition to maintaining 200 feet of skiing space, the boat operator should keep a minimum of 100 feet of water between the skier and docks, swim areas, shore and other boats.
Wear a Life Jacket
Regardless of whether or not a skier knows how to swim, he or she should always wear a personal flotation device (PFD). There are PFDs made specifically for the sport of water skiing. These flotation devices allow greater freedom of body movement while still offering the flotation necessary to prevent a skier from drowning.
Fly an Orange Flag
How does this prevent water skiing-related injuries? By flying an orange flag on your boat, you'll alert other boaters and swimmers to the presence of a skier nearby. It's an unofficial means of telling people that you have a skier attached to their boat, so hopefully they'll use more caution when steering and maneuvering around your watercraft.