Friday, October 31st, 2014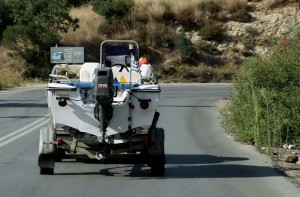 It's downright frustrating when you drive out to the lake and launch your boat in the water, only to discover that your engine won't start. Unless you have a battery-powered trolling motor as backup, you're essentially dead in the water. By doing a little troubleshooting, however, you can usually identify the cause of your failing engine – and once you've identified the cause, you can work to fix/repair it.
Batteries
If your boat's engine operates with power from a battery bank, check to make sure the connections are securely attached. It's not uncommon for connections to shake loose from the vibrations created by the boat. Over time, these vibrations will gradually loosen the cables until it no longer has a connection. Double-check your batteries' cables and connections, ensuring they are tight and secure.
Even if the battery cables and terminals are intact, corrosion may restrict or completely prevent the flow of electricity to the engine. If you discover corrosion, use a wire grill brush along with baking soda to clean it. The baking soda serves two purposes: it will neutralize any spilled acid, and it will create a paste-like consistency that helps clean away rust.
Old Fuel
Another possible reason why your boat's engine won't start is because it's filled with old fuel. This is particularly problematic during the early spring months, as the stagnant fuel loses its ability to create combustion. When storing your boat, try to get into the habit of cranking the motor at least once a month. Doing so will keep the fuel moving and prevent impurities from settling inside.
If you believe old fuel is to blame, siphon it out and replace it with fresh fuel.
Damaged or Twisted Fuel Line
Once you've ruled out the possibility of old fuel, you should check the line running from your tank to the engine. If the fuel line is damaged, twisted or crimped, it won't be able to supply fuel to the engine; thus, the engine won't start. Fuel lines tend to wear down with age, and some of them may even corrode due to the constant moisture to which they are exposed. You can often fix crimps and twists, but a corroded fuel lime will likely need to be replaced.
Water
Lastly, check to make sure there's adequate water flowing to your boat's engine. First-time boat owners are often surprised to learn that engines pull and use water as a coolant. Without this water, the engine may overheat and/or stop running.