Wednesday, February 4th, 2015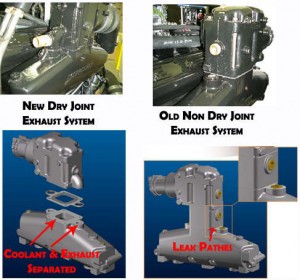 Customer Question: Hi 4.3 1997 Mercruiser GM, is 864309T02 a suitable replacement dry joint alternative. Please quote shipping to Sydney Australia 2234. Many thanks Kyle.
PPT Response: Mercruiser offers a variety of different Marine Exhaust Systems including the Dry Joint Exhaust System for which there are in fact 2 different designs. Using the links below you can review the History of Mercruiser's Exhaust Systems as well as a separate article that covers the design specifics related to the dry joint design and what conversion options it allows. add your selected product(s) to your shopping cart and the shipping estimator located at the bottom of the shopping cart page will give you a shipping cost and various shipping options based on your specific postal code. Let me know if you need any further technical information or help placing your order. In either case I will be glad to assist!
History of Mercruiser Exhaust Systems……Read More
Link to Dry Joint Conversion Tech Article……Read More
Link to Product……Read More
Regards
Performance Product Technologies/IShopBoating
8002 West 6th Street
Stillwater, OK 74074
(405) 533-3812
Fax (775) 257-1769
[email protected]
www.perfprotech.com