Friday, October 10th, 2014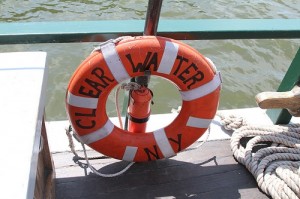 According to public data released by the U.S. Coast Guard, there were 4,062 recreational boating accidents reported in 2013, causing 2,620 injuries, 560 deaths, and $29 million worth of property damage (source). Unfortunately, many people overlook the fundamentals of safety when operating a boat. Whether you're going fishing, skiing, or simply enjoying a summer afternoon on the water, you'll want to follow these 5 steps to ensure a safe experience for everyone on board.
#1) Life Jackets
There's a reason why they are called life jackets — because they save lives. The majority of drowning deaths are attribute to life jackets not being present. Laws regarding Personal Flotation Devices (PFD) vary from state-to-state, but a good rule of thumb is to keep one U.S. Coast Guard-certified life jacket (PFD) on board for each passenger.
#2) Coast Guard Vessel Check
Did you know that the U.S. Guard Coast issues free vessel and safety gear checks? They will examine your boat and its respective equipment to ensure it meets both the federal and state regulations. And if you don't have access to a coast guard in your area, you can check out their website for an online virtual safety check. Did I mention boat inspections by the coast guard are free?
#3) Watch The Weather
The worst place you can be when a bad storm rolls through is stuck on a boat in the middle of a lake. Check the weather before heading out to ensure your boating experience is safe and enjoyable for everyone on board. If you notice sudden gusts of strong wind, lightning flashes on the horizon, and/or a sudden change in humidity, it's probably time to call it a day and head back to the docks.
#4) Keep a Fire Extinguisher On Board
Each and every vessel should have a working fire extinguisher, because just seconds can mean the difference between sinking and floating. Don't just toss an old fire extinguisher in the storage compartment of your boat and call it a day, but instead test it out beforehand to ensure it's charged and functional.
#5) Stay Lit
When the sun begins to edge its way closer and closer down towards the horizon, you'll want to sure your boat is visible to others on the water by turning on your lights. The U.S. Coast Guard requires all boats — including sailboats — to display navigation lights between sunset and sunrise. Exact specifications regarding lighting requirements varies from state-to-state, so check with your respective state's laws before heading out on the water.