5-Point Checklist For Boat Propellers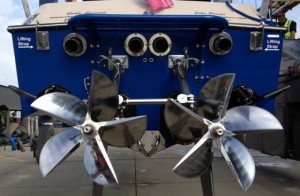 Hauling your boat out of the water for winter? Now's the time to inspect your propeller, prop shafts, seals and zincs. And if there is any maintenance required, why not get it done now instead of next season when everyone else is scrambling to repair their boats. To start you off, here is a quick checklist on major inspection points for your propeller and other major components:
BLADES


Inboard, outboard, sterndrive, doesn't matter. Carefully inspect your blades because even though dings and missing chunks are easy to spot, it takes a careful eye to catch a slightly bent blade. You can also tell if a blade is bent because it creates excess vibration while operating. A quick peek from the side is another way to check, but if you want to be thorough, it is best to measure it out. Take the distance of the outermost edge of each blade from a straightedge suspended from a fixed point such as the anti-ventilation plate of an outboard or sterndrive. The bottom of the hull works as a fixed point for measurement on an inboard. If the distance differs from one blade to the next, chances are you have a bent blade.For dings and chips, be careful not to file you blades down too much. Over filing can displace the balance of the prop and cause further damage to other components. Bent or broken blades are not fixes to be made in your garage. Specialty tools and re-balancing expertise of a prop repair shop should be utilized at all times.

SHAFTS


Bent prop shafts are another cause of unnecessary vibrations while boating. Blade measurement variation, much like those found with bent blades, paired with noticeable blade wobble, usually means you have some bent prop shafts. If you have and inboard and the prop bearings are not centered, it is safe to bet your shaft is bent. Shops can replace or retrue shafts as needed, and regardless of which is done, be sure to have the bearings, seals and couplers checked and replaced if damaged.
HUBS
Hubs are designed to give way on outboard and sterndrive propellers if they hit something to prevent damage to the drivetrain. That being said, hubs tend to wear out due to heat exposure and time, especially with old-school rubber hubs. So if your prop is going on 10+ years of age, it would be wise to have a prop shop replace you old hub with a new component. In this case it is always better to be safer than sorry.
SEALS
Fishermen today are using braided fishing line that once wrapped around a prop shaft, melts and becomes a sharp-edged disc that cuts through prop-shaft seals like a warm knife through butter. Inboards only require a careful inspection for fishing-line damage on the outside of the shaft seals. But for outboards and sterndrives, you'll have to remove the propeller and hardware to see if there is any fishing line. Once the line is removed, check for leaking gear lube, which if the seal has been leaking for an extended period of time, will have a milky appearance.Even if there isn't any sign of leakage, err on the side of caution and drain the gear lube and have a shop pressure check the gear case. Have the seal replaced if the lower unit doesn't meet pressure specifications.

PROP-SHAFT


Pre-grease the prop before reinstalling, give the cotter pin or keyway the once over and replace them or any other prop hardware that is worn. Afterwards, lather the entire shaft with marine grease and install the prop. Be sure to tighten the prop nut to the engine builder's specification. Greasing the prop shaft will make removing the wheel far easier next time, especially if the shaft and prop are unlike metals.
Getting through this checklist sooner than later saves you the headache of having to replace parts in the heat of boating season. Prices will be up and shoppers will be buying parts off the shelves faster than suppliers can replace them. It is always a good idea to get this kind of upkeep done at the season's end. Don't cut corners and if you are uncomfortable doing the work yourself or lack the proper tools, utilize the skill set of your local boat shop mechanics.