Key Features of the Mercury 8 and 9.9HP Outboard Motors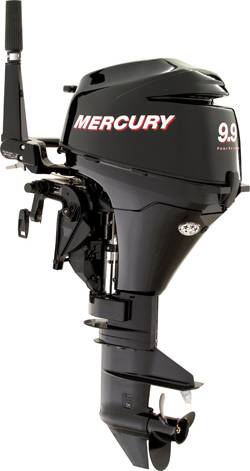 Mercury has been the most trusted names in outboard motor development for over 75 years. The reason why is simple, Mercury Outboard Motors last; they are dependable, durable, high performance orientated and their innovative design allows for extremely versatile usage. In addition, Mercury Outboards are easy to use and maintain high fuel efficiency without sacrificing power.
Highlights 8 and 9.9 Hp Mercs
Ease of Use: Mercury 4 Stroke Outboards are built to take the guess work out of operation. Convenient fingertip control allows the user to manipulate the throttle, shift, friction, and tilt with a multi-function tiller handle. This allows you to concentrate on more important things like finding fish, rather than motor operation.
Advanced Trim Control Features: Ratcheting trim control comes as a standard feature on 4 stroke 8 and 9.9 Hp Merc Outboards. The ratchet control allows you to set the trim and lock it in place providing you with proper height and angle for enhanced versatility.
Lightweight Design: Though these Merc Outboard motors are packed with plenty of power to get you where you want to go, they weigh in at a meager 83lbs. This makes Merc's Outboard motors some of the lightest on the market.
Though the standard models can more than accommodate the average user, stepping up these outboards with a Bigfoot Package is well worth your while.
Big Foot Upgrade Package Features
20% larger prop will increase steering control, especially at lower speeds
A taller gear case allows you to tred through deeper water or bellow turbulent water without sacrificing power or performance
An improved gear ratio delivers more power to handle more strenuous loads
An "anti-ventilation" plate prevents air being drawn in by the prop which results in smoother operation and better fuel efficiency
If you are interested in learning more about Mercury's Outboard motors, please contact the experts with Performance Product Technologies. We are dedicated to bringing our customers only the best in marine performance products and parts.
Tags: Mercury 8 hp, Mercury 9.9 Hp, Mercury Outboard Motors, outboards