Last Summer's Mercruiser 4.5L Engine Responds to Government Changes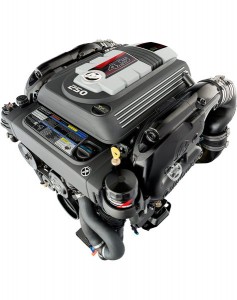 Anticipating its engine supplier, GM Powertrain, dropping many of its affordable engines, Mercruiser designed its own 4.5 L engine. GM'S decision is due to federal fuel mileage standards that require automobiles to deliver an MPG of at least 54.5 by the year 2015. The auto industry has responded to this by adding technology that doesn't add any value to a Marine Engine since they typically run at higher engine speeds and load than an auto engine.
Mercruiser decided to start from scratch and came up with an engine design intended specifically for marine use. A supplier makes the cast iron block, but the rest of the engine comes in-house. The Mercury foundry casts the aluminum intake manifold and cylinder heads. You can choose from raw or Fresh Water Cooling, compatible with other MerCruiser Engines, and you can have either SmartCraft DTS controls or joystick piloting.
At just 940 pounds, the 4.5L V6 Engine is 134 pounds lighter than the 5.0L. For a mid-size runabout, that makes a big difference in performance. The lighter design also shows advantages for twin-engine set ups. Another plus is the fact the 4.5 is 4 inches shorter than the 5.0, offering boat builders another 4 inches of cockpit space.
One more marine specific aspect of the 4.5L engine is placement of consumer touch points. The dipstick, oil fill, and power steering fill are all right in the upper front portion of the engine for easy access. They also give you a detailed service label with a QR code that allows you to view how-to maintenance videos right on your smart phone. MerCruiser kept their air pressure drain system found on the 350 MAG. This comes in handy, because it lets you drain most of the water from the engine when expecting freezing temps.
All in all, the MerCruiser 4.5 L V6 Marine Engine promises to be the next big thing in Marine Engines. For more information on this or any of the other fine products we offer, contact us today.