A Fishing Surprise for Australian Boater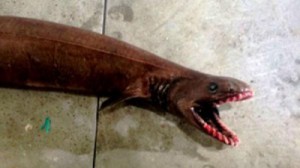 When you take your boat out, you never know what the day has in store for you. Whether you're relaxing on the water, having a boat part at the lake with friends, competing in water sports, or fishing for sport or leisure, adventure awaits when you are on a boat.
Australian fisherman David Guillot learned this first hand when he went out fishing last week and landed not a fish, but a creature that looked like it belonged in a museum. Guillot caught a Frilled Shark, a species that dates back to prehistoric times and has existed for 80 million years.
Guillot had never seen anything like it, and reeling it in probably felt a little bit like stepping back in time. Scientists are pretty familiar with this species of shark but it is not something that the general public normally encounters.
According to the Fox31 article, "Terrifying 'Prehistoric' Shark Found In Australia by the web staff,
"The shark has an eel-like body and a shark-like tail. It has six sets of gill slits and 300 teeth. Frilled sharks are usually found as deep as 5,100 feet below the ocean's surface. According to the South East Trawl Fishing Industry Association, this "living fossil" is one of only two remaining species of its ancient family."
You never know what kind of surprise might await you the next time you put your boat in the water. If you want to make sure your boat is in top shape before the weather turns warm, so you don't miss a single weekend on the water,  please contact us.