18-time National Water Ski Champions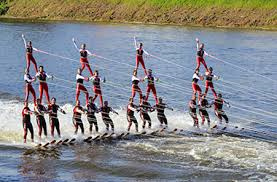 The renowned and famous Rock Aqua Jays Water Ski Show Team is an amateur Janesville, Wisconsin, water ski club with about 130 members. They hold their spectacular shows twice a week between Memorial Day and Labor Day on the Rock River in Janesville. Their spectacular show skiing involves amazingly themed musically choreographed acts on water skis.
What has contributed to the unbelievable success of these performers? Their consistent dedication to their performances have resulted in numerous triumphs.
Having been responsible for initiating the first national Championships of the National Show Ski Association in August, 1975, the Aqua Jays have now hosted that tournament in Janesville 26 of the 39 years. They have won a third consecutive time out of an over-all 18 wins and have come in second 12 times. With over 1,500 athletes in 14 teams in the most recent tournament, each team was given one hour to perform a water ski fast-action theatrical musical with elaborate costumes.
They also had a Triple Crown Season in 2013. That meant winning the Wisconsin State, the Mercury Open, and the National Water Ski Show tournaments. Additionally, in 2012 they hosted the first World Water Ski Show Tournament.
They are proud to have been the first amateur team to build the three-high, four-high and their signature five-high pyramids, and they hold the record for the largest competition pyramid, 44 people, that was set in 2003. They have created the difficult five-tier pyramid every year for 17 years, and the team is attempting to set a new world record for the largest competition pyramid towed on water. This amazing pyramid of 52 people includes two two-tier pyramids, two three-tier pyramids and three four-tier pyramids.
In 2012 they set a Guinness World Record for the most number of people, 55, to water ski in a pyramid. This was done along with the Chinese Water Ski Team. The Aqua Jays have also won the Wisconsin State Show Tournament a record 14 times, six times were named the Team of the Year by the National Show Ski Association, and ten times have taken the triple crown of show skiing.
For more information on water skiing and marine products, please visit our website or contact us.