The Inner Workings of a Fishfinder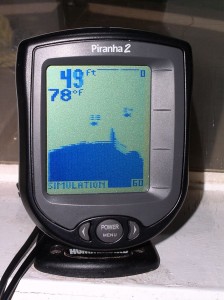 A fishfinder is an invaluable tool that every serious angler should have at his or her disposal. As the name suggests, it allows anglers to locate fish (individual and schools) beneath the water. Modern-day fishfinders also have the ability to pinpoint underwater debris, calculate water depth, and utilize global positioning satellite (GPS) technology.
While there are dozens if not hundreds of different types of fishfinders on the market, nearly all of them use the same technology to locate fish and debris: sonar. Originally developed by the British Royal Navy for the purpose of detecting Nazi submarines during World War II, sonar (acronym for Sound Navigation And Ranging) is a technique in which sound waves are used to "map" and identify objects in an underwater environment. When the sound is propagated, it will travel through the water, bouncing off the ocean's bottom and any fish or debris it hits.
Fishfinders work using the same principle as sonar. The device sends an audible wave from the surface that travels through the water, bouncing off any objects (or fish) in its path. The audible wave is initially narrow when it's first emitted, but it gradually widens and spreads outwards as it travels deeper into the water. If the audible wave hits a fish, part of the beam will bounce back towards the fishfinder.
The size of the fish is determined by the shape of the returning sonar beam. If the returning beam contains a large "gap" in the center, the fish is probably large, whereas a small gap in the center of the returning beam indicates a small fish.
It's important to note that certain elements can affect the accuracy and effectiveness of a fishfinder. Using a fishfinder in waters with a soft, muddy bottom, for instance, may yield incorrect depths at times. This is due to the fact that soft bottoms absorb sonar beams more so than hard, rocky bottoms. Fishfinders are more accurate when used in bodies of water with hard bottoms for this reason.
When shopping for a fishfinder, it's recommended that you choose a model that sends out multiple sonar beams. Generally speaking, the more sonar beams it emits, the greater the accuracy. Some of the older models only used a single beam, but newer fishfinders like the Hummingbird are capable of emitting up to half a dozen beams. This allows for a more accurate reading while covering a greater amount of underwater space at the same time.