Flywheels for Replacement Marine Longblocks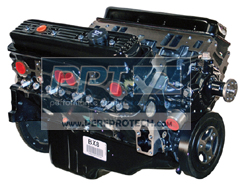 TOPIC: Marine Longblock Flywheels
QUESTION: I'm looking at the New GM 350 Longblock – 5.7L Vortec for Years 1996 – Current, Models Carb, TBI & MPI w/ Crank Position Sensor and noticed that is it externally balanced yet does not come with a flywheel. Can you explain how these long blocks are balanced and what balancing will be required on my end. Thanks. Ben 
RESPONSE:
Ben,
Thanks for your inquiry and the opportunity at earning your business. The main reason for this is that the longblocks can be used for different applications being both inboard or sterndrive. These use different flywheels so they wouldn't want to include both versions of flywheel when the longblock was shipped. The other reason is that the flywheel do not "wear out" so rather than increase the cost of the longblock by including an item that doesn't need to be changed out they just allow the customer to re-use their existing flywheel.
Using the link below you can add your selected product(s) to your shopping cart and the shipping estimator located at the bottom of the shopping cart page will give you a shipping cost and various shipping options based on your specific postal code. Let me know if you need any further technical information or help placing your order. In either case I will be glad to assist!
Link to Engine Tech Info
http://tinyurl.com/pnukpph
From: Ben G
Sent: Friday, January 1, 2016 2:13 PM
To: PPT_sales
Subject: New 350 Long Block Balancing
Good afternoon,
I'm looking at the New GM 350 Longblock – 5.7L Vortec for Years 1996 – Current, Models Carb, TBI & MPI w/ Crank Position Sensor and noticed that is it externally balanced yet does not come with a flywheel. Can you explain how these long blocks are balanced and what balancing will be required on my end. Thanks.
—
Ben G