Wednesday, December 21st, 2016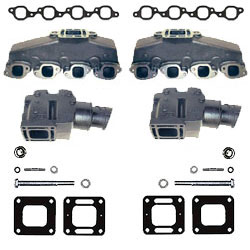 Topic: MerCruiser Exhaust Manifold Replacement
Customer Question:
"I am doing a resurrection project on a Formula 1986 357 SR1 , twin MerCruiser 454 motors, with KAMMA surface drives. They need replacement marine exhaust manifolds and risers. I also need to replace the thru hull exhaust hoses that connect from the exhaust riser to the thru hull tips located at the transom of the boat. My current thru hull exhaust tips do not have the internal shutters so I'm interested in upgrading to the tips that contain the exhaust shutters that help prevent water ingestion or reversion.
I will also need the external exhaust flappers that go over the outside of the thru hull exhaust tips. The boat is moored in salt water, with possible access to fresh water flush. We really need to watch our budget with this repower project, so value marine exhaust products are required. Could you provide me with some options we could utilize for this piece of the boat restoration project? Thank you, and regards."
Response:
Wow! This boat restoration project sounds like it will be very interesting and a lot of fun. Water ingestion (including water reversion) is definitely a concern with the big block 454 and 502 marine engines that have teh more aggressive camshafts. I will include links below not only to my recommended product options but also links to several good technical articles aimed at addressing your technical concerns. I would recommend going with the EDP coated exhaust manifolds as these are not only coated externally but double EDP coated on the inside water passages as well.
What is Water Ingestion….Read More
What are MerCruiser Exhaust Resonators….Read More
How to Determine the Proper Exhaust Riser Height….Read More
Thru Hull Exhaust…..Read More
Exhaust Flappers….Read More
EDP Coated MerCruiser Exhaust Manifolds and Risers….Read More