Tactics For Boating In Shallow Waters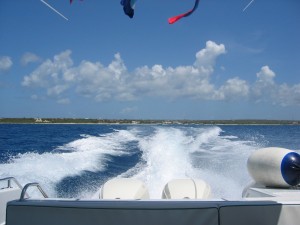 Shallow waters create a serious hazard for boaters. Gunning the motor in an attempt to thrust over the shallow area may result in the propeller hitting the bottom, which can damage or even destroy it. Without a working propeller, your boat will be dead in the water. So, how can you safely navigate through shallow waters without damaging or destroying your propeller?
Observe The Water
Take a moment to observe the shallow water surrounding your boat. Purchasing a pair of polarized sunglasses will prove to be a smart investment in situations such as this. Polarized lenses penetrate through the water, allowing you to see several feet below in ideal conditions.
GPS navigation system with built-in sonar are also useful for identifying channels, edges, sandbars, flats, and shallow areas. Some of the newer models even come with tide charts.
Pay close attention for color changes in the water, as this can indicate shallow water. There's an old saying that goes, "Brown, brown, run aground. White, white, you just might. Blue, blue, sail on through. Green, green, nice and clean." This is a good rule of thumb to follow when you're navigating around shallow coastal waters.
What's Your Draft?
If you asked a group of boaters what their "draft" is, most probably wouldn't be able to answer you. Basically, the draft is a measurement (in inches) of how much of the boat is underwater, starting from the absolute lowest part of the vessel. You can typically find this information in the owner's manual, or by performing a Google search of your make and model watercraft.
Remember, your propeller will almost always reach the the draft when the motor is running, so turn up the trim when you begin to approach shallow water.
Keep It Slow And Steady
It's best to take a slow, methodical approach when navigating a boat through shallow waters. Doing so will give you more time react and reduce the risk of serious damage and/or injury should your propeller hit the bottom.
But here's the kicker: most boats (with the exception of pontoons) have something called an "on-plane" speed. This is the speed at which a boat rises out of the water, providing greater clearance in shallow water. If you turn turn the throttle down and come to a complete stop, your boat will sink down down into the water; therefore, you want to maintain a slow, steady speed that keeps your boat "on plane."