Protecting Your Boat From Damage Caused by The Anchor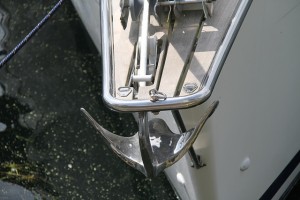 An anchor is a critical components of any boat – whether it's for recreational or commercial purposes. It's designed to secure the boat in place, preventing it from drifting in the wind or water currents. There are several different types of anchors, including grapnels, herrsehoffs, northills, deltas, and plough anchors. Regardless of which one you use, however, there's an inherit risk of damaging your watercraft if certain precautions are not taken.
Because they are so heavy, anchors can easily damage the boat's deck. Granted, some boats are equipped with pulley systems that hold and store the anchor away from the deck, but smaller watercrafts may lack this feature. If you store your anchor directly on the deck, you may want to invest in a soft rubber mat. You don't have to necessarily cover the entire deck, but you should lay out the rubber mat in a small area designated specifically for the anchor.
Another idea is to secure a large plastic bucket or milk crate to your deck. Rather than placing the anchor on the deck, you can store it inside the bucket/milk crate. This will prevent it from scratching your deck while also keeping it out of the passengers' away.
The anchor chain can cause just as much damage (if not more) than the anchor. Stainless steel chains are gentle, but they are also the most expensive. If you're willing to spend the extra money, invest in a stainless steel chain for your anchor. Galvanized chains are cheaper, but they are incredibly coarse on rough on the boat's hull and deck.
A third option is to choose a plastic-coasted anchor chain. These chains are relatively inexpensive and feature a plastic coating that's designed to protect boats from damage. The only downside to plastic anchor chains is their lack of flexibility, which makes them difficult to store and unravel. Some plastic anchor chains may also crack, allowing moisture to enter to promote rust.
If you already have an anchor chain and don't want to purchase a new one, you can use a rubber spray coating to help protect your boat from damage. Simply spray the coating over your anchor, wait for it for to dry, and it will now have a soft outer shell. This shell isn't impermeable, however, and it will likely degrade over time. When this happens, you'll need to reapply the rubber spray to keep the outer shell intact.