Powerboat Tacking Tips
At certain times, it makes sense for you to tack like you would on a sail boat. For instance, when crossing to the west end of the Catalina Island off the southern California coast line, seas being pushed up by Pacific zephyrs will take your speedy cruise and turn it into an arduous drag. Turning your boat at an angle that would quarter the choppy Santa Catalina Gulf Sea minimizes the pounding with a less-direct approach to waves and ultimately increases your cruising speed.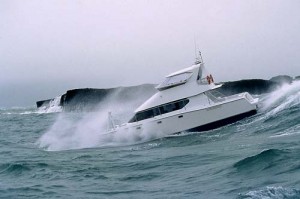 Technically a straight line is the quickest distance between two points, but with rough seas, it isn't the safest. Here are three different boating scenarios where a sail-boat-tacking approach will help you get to your destination quickly and comfortably:
POUNDING UP-SEA
Running your boat at a right angle to steep, closely packed seas is dangerous and exhausting. Instead of slamming yourself down to a crawl, apply the tacking approach. Not only is the 90 degree idea slower, but you put your equipment and passengers in danger with the possibility of stuffing your boat while falling off the crest of a roller and into the hole at the base of the next crasher. Instead, steer your boat off-sea in one direction for a few miles before tacking the other direction. Sensible throttle controls and attention to the wheel are required to keep a steady boat and deal with the unexpected hang-ten wave. Quartering waves requires situational awareness and keen piloting skills.Wind spray is the one downside to wave quartering as opposed to meeting waves head on. But if it's safety or dryness at stake, I'll take the cautious approach every time. An enclosure is another sensible solution for eliminating wind spray.
RACING DOWN-SEA
While racing your boat down the face of a wave might seem like fun, the large seas that follow you are often times very treacherous. A loss of steering has been known to occur in these scenarios, and when that happens, you leave yourself vulnerable to the roller astern. With especially steep seas, you run the risk of stuffing yourself into the backside of the wave you follow. Taking wider angles when quartering down sea is a good approach that minimizes hazardous situations. Have your passengers take shelter on the windward stern area, especially when operating smaller boats in steep waters. Your reverse tack should be timed to a lull in the waves. Be sure to come about briskly.
SOAKED IN A BEAM SEA
On breezy lake days fishing in your small aluminum boat, tacking is an excellent way to keep yourself dry. If you're running the lake with the wind on your beam, quarter up sea and down sea sharply. You could be smart and pack rain gear, but wouldn't you rather liven up your fishing day with a serpentine cruise to shore?
Tags: Tacking