Marine Fuel – Alcohol Recommendations (Part 1)
Use of Alcohol Blended Fuels (Ethanol): Alcohol In Fuel Concerns
Situation
Based on recent, and increasing EPA legislation the use of alcohol blended fuels "Ethanol" is becoming more and more common in the USA.  Its becoming apparent that us #boaters are not that important to the outcome of these decisions. I base this on the fact that regardless of the issues we've continually raised with the alcohol based fuels, the EPA continues pushing them on us as a society whether they really make sense or not. Therefore its important for the regular boater to be aware of the risks that come along with using these fuels be it ethanol or methanol. Also be aware that the higher the % of alcohol in the fuel not only is it more likely you will have a problem BUT also the severity of the problems increase as well. If nothing else this article will make you wonder whats driving this push.
Corrosion: Alcohol is 100% soluble in water. Basically you can think of the alcohol as a binder that attracts moisture and then attached itself to it. Now applying this to a vented fuel tank in winter storage you can think of the alcohol in the fuel tank just sitting there attracting moisture during storage. Then as this concentration of water builds and builds it separates from the fuel as shown in the illustration below. The list of problems that result from this concentration of alcohol/water can include organics issues that lead to fuel system restrictions all the way up to catastrophic engine failure due to detonation issues.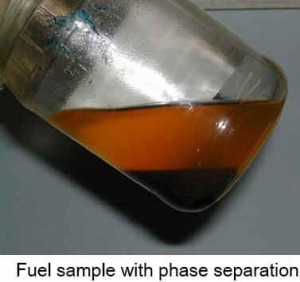 Fuel Line Permeability:

Because the molecules of alcohol are smaller than those of gasoline, the alcohol may pass through some rubber fuel lines where gasoline would not.

Degradation of rubber/plastic parts:

Nonmetallic components of the fuel system such as rubber or plastic have the tendency to absorb alcohol due to its molecular make up and size. Therefore as a result these rubber components may have the tendency to swell along with other changes to their physical properties, all of which may have an impact on their strength. Among other concerns these changes may effect their ability to seal and prevent leakage.

Difficult Starting and overall poor operation:

 As a general rules alcohol has a lower boiling point than gasoline and therefore when blended with gasoline increases the Reid Vapor Pressure increases which causes the fuel to vaporize at lower temperatures. The end result is Vapor Locking in warm weather conditions. Normally, Vapor Locking happens in a couple of ways:
Engine Compartment Heat Build Up – As the engine runs and builds heat the compartment itself retains heat. This has become even more prevalent as the noise concerns have driven boat builders to build quieter engine compartments. Once the engine is shut down it allows everything to "heat-soak", which then has the effect of vaporizing the fuel in the fuel lines and engine fuel system components WHICH leads to vapor locking.
Fuel Pump Suction – As the fuel pump pulls fuel from the tank to the engine the low pressure created from this suction is essentially trying to tear the fuel molecules apart. The alcohol in the fuel allows this to happen much easier.
Fuel Recommendation
STANDRAD FUEL RATINGS
Most all Marine Engines will operate satisfactorily when using gasoline that meets any of the following specifications:
USA and Canada: having a posted pump octane rating of 87 (R+M)/2 minimum. Premium gasoline [91 (R+M)/2 octane] is also acceptable and required for some Mercury Racing sterndrive products. Do NOT use leaded gasoline.
Outside USA and Canada: having a posted pump octane rating of 90 RON minimum. Premium gasoline (96 RON) is also acceptable and required for some Mercury Racing sterndrive products. Do NOT use leaded gasoline.
USING REFORMULATED OXYGENATED GASOLINE (USA ONLY)
Oxygenated fuels are required in certain areas of the USA and seemingly becoming more and more common. The two types of oxygenates used in these fuels are alcohol (ethanol or methanol) however Ethanol seems to be by far the more common. In the case of Ethanol blended fuels, certain Ethanol blended gasoline's are acceptable for use in Mercury Marine engine. Mercury Mercruiser engines manufactured after 1996 are capable of operating with 10% Ethanol blended gasoline however anything greater than 10% can lead to severe problems including catastrophic engine failure.
IMPORTANT:
Periods of storage longer than a week are common to boats and create unique problems. If possible try to avoid long term boat storage if you operate your engine with an ethanol blended fuel.  Although automobiles normally use their fuel quickly enough to avoid problems with the alcohol blended fuels, boats often sit idle long enough for phase separation to occur. In addition, internal corrosion may take place during storage if alcohol has washed off protective oil films from components of the internal fuel system and engine. The other issue resulting from long-term storage created fuel separation is that of engine detonation once the boat is re-commissioned. Once fuel separation occurs it is not uncommon for the engine to get a "shot" of the separated alcohol/water mixture in the fuel tank. This will commonly cause the engine to detonate and seems to be increasingly becoming the cause of more and more catastrophic engine failures.
**NOTE: In most cases engine failures that result from detonation as described above are NOT covered under warranty. Therefore it is important to realize that you could have a brand new boat/engine with a 5 year warranty. However if you allow it to set for as little as 6 weeks with Ethanol blended fuel the fuel can separate enough to cause a detonation related failure. We experienced this 2 times just this year.
WHAT DO WE SUGGEST
Avoid Ethanol fuel if at all possible
Always use a fuel treatment/stabilizer throughout the boating season. This is just becoming a part of boating for 2010 and beyond that we all have to get used to.
Always use a fuel stabilizing storage treatment product if the boat is going to sit idle for more than a week.
Fill the tank full (so it can't attract and condense as much moisture from the air) with a non-ethanol fuel when putting the boat up for long-term storage such as over the winter.
After you burn through the 1st 1/2 tank of fuel once the boat is re-commissioned, fill it full with fresh, non-ethanol fuel.
If you ever end up storing the boat with non-treated fuel (especially ethanol blended fuel) for any length of time greater than 2-3 months, pump the fuel and start fresh.
Tags: alcohol, ethanol, mercury fuel requirements