How to Launch a Boat By Yourself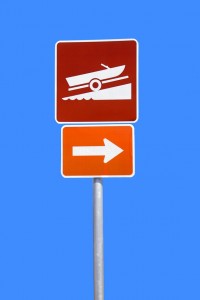 Launching a boat is a multi-step process that's typically performed by two or more people. One person can back the trailer into the water, while the other person unties and releases it. With an extra set of hands nearby, getting a boat from the trailer to the water is a simple process that shouldn't take more than 10 minutes. But what if you're looking to enjoy a day of boating on the lake by yourself?
The good news is that you can launch a boat by yourself. It takes a little more time and planning, but after a while you'll get it down an exact science. And once you learn the basics of a solo launch, you can take your boat to the lake, river or any other body of water, regardless of whether or not you have company.
Steps To Launching a Boat By Yourself:
Prepare your boat by moving the bulk of your gear into your truck (you don't want it falling in the water), as well as checking to make sure the drain plug is in, fenders are ready, and lines are ready to throw.
With your truck in reverse, back the trailer down into the water.
While holding the bow line, unhook the winch and safety chain and push your boat off the trailer and into the water.
Walk back up the ramp and over to the dock. Tie both the bow and stern lines from your boat to the dock.
Get back in your truck and move it to an appropriate parking area (don't block the ramp for other boaters).
Walk back over to your boat, fire up the motor, and you're good to go!
Prepare Your Boat In The Parking Lot Before You Launch
Ideally, you wan to launch your boat as fast and efficiently as possible. Depending on the location and time of year, you might be the sole person on the water, or there could be hundreds of other boaters lined up and ready to launch. Slowing the launch line down is poor etiquette that's easily avoided by prepping your boat ahead of time.
Before you drive towards the boat ramp, park your truck in the parking lot and prep your boat. As previously stated, this involves checking the drain plug, fenders, and moving your gear into the truck. Doing this before you launch will speed up the process for both you and other boaters who are ready to launch.
Tags: Launching a Boat