How To Clean The Waterline Off a Boat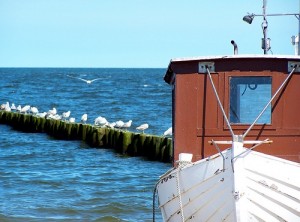 Does your boat have a visible waterline stretching across the hull? Although it typically doesn't post any risk to the boat's structural integrity, it's an unsightly blemish that most boaters want to avoid. With the right cleaning solution and a little bit of elbow grease, you can easily remove the waterline from your boat, giving it a fresh new look.
What Is a Waterline?
The waterline is basically a visible horizontal line on a boat or ship where the hull meets the surface of the water. It's often characterized by the presence of algae stretching across the hull. The algae lingering on top of the water settles on the hull where it sticks and creates a visible line. You can prevent a waterline from forming by cleaning your boat after each use, but even the most die-hard boaters will find it difficult to clean their watercraft as frequently as this.
Ways To Clean Your Boat's Waterline
There are dozens of cleaning products on the market designed specifically for boat hulls. Marykate On & Off is a popular product that works exceptionally well. Using a unique formula of chemicals and rust-fighting agents, it's able to eliminate waterlines, stains, algae, and exhaust marks. It's important to note, however, that Marykate On & Off is only designed for use on fiberglass hulls.
Alternatively, you can clean the waterline off your boat by using diluted muratic acid. Place 1 parts muratic acid and 3 parts water in a garden sprayer and hose down the waterline. Gear up in a pair of rubber gloves and safety goggles to protect yourself against direct exposure to the solution. Even at 25% dilution, muratic acid is still strong enough to cause irritation.
It's recommended that you take the boat off your trailer when applying the diluted acid, as it may cause damage to the metal framework of a trailer. Once you've applied the solution, use a non-scratch dish scrubbing pad to clean off any stubborn algae or grim around the waterline. Hose it down with fresh water when you are finished and you'll have a clean boat with no waterlines!
Although I can't personally vouch for this method, some owners use toilet bowl cleaning products to clean their boat's waterline. These products often contain acid compounds and heavy chemicals that eat away at tough algae. Unless you know exactly what's inside the product, though, and how it affects your boat's hull, you should avoid using any product that's not designed for use on boat hulls.